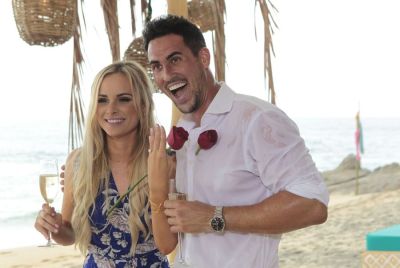 Bachelor in Paradise fans will not be subjected to yet another season of Amanda Stanton and Josh Murray sucking face on the beach!
The couple, who became engaged on last year's season of the show but officially broke up in January, had been trying to make their relationship work in recent months (despite the fact that Josh actually had Amanda's car taken away from her a few months ago), but Josh confirmed to People that their relationship is over for good now– as is his journey to find love on reality TV!
"I am definitely not trying to get back together with Amanda," Josh told the magazine, adding that his dating life has been non-existent since the show. "We are done…I wish nothing but the best for her but I have moved on. We will not be getting back together."
Before becoming engaged on 'Bachelor in Paradise,' Josh got engaged to Andi Dorfman during her season of The Bachelorette. He told People that he doesn't want to continue to go on dating shows.
"I feel like it's time I [do some] dating outside of that TV world," he said. "It's very tough around cameras because you don't get to learn everything that person…You get to learn a lot after you leave the show."
"I don't see myself doing [reality TV] at all, but who knows what's going to happen," he added.
Josh also confirmed to People that Amanda will be back for another season of 'Bachelor in Paradise.' While he insists he doesn't want to date on-camera any more, this very well could be a set-up on the producers' part to surprise Amanda while she's in 'Paradise' by bringing Josh to the show.
'Bachelor in Paradise' Season 3 premieres August 8 on ABC.
(Photo: ABC)