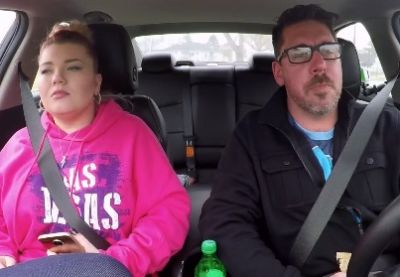 Teen Mom OG fans who waited in line at an Indiana book store to meet Amber Portwood and Matt Baier on Tuesday night were stood up after the controversial MTV couple no-showed at their own event.
Matt, who was appearing to promote his about-to-be-released book, had been posting about the event on his social media accounts just a few hours before he and Amber were due to arrive at the Barnes & Noble book store in Greenwood, Indiana. Matt was supposed to be signing copies of his book, while Amber would be autographing copies of her memoir, Never Too Late.
'Teen Mom OG' fan Amie Ping arrived at the book store after Matt had tweeted her just an hour before the event's 6 p.m. start time, telling her to "Come say hi" to him and Amber at the signing. The event's scheduled start time came and went, and soon Amie says the book store employees came out to talk to the waiting fans.
At 6:10, the book store employees told the fans that Matt and Amber were on their way. Fifteen minutes after that, another employee came out and said that Matt had cancelled on his own signing.
"When they said Matt wasn't coming everyone went 'Yay!'" Amie tells The Ashley, adding that she was only there to meet Amber.
Fifteen minutes later, a book store employee came out with a tray of Starbucks coffee for the waiting fans, and informed them that Amber had also cancelled.
"The employee said that [Amber] was crying and that she was confused and there was a conflict with filming," Amie said, "which makes no sense since they both knew about it and advertised it along with Barnes & Noble.
"The guy said 'Amber's crying if that makes you feel better,'" Amie added.
Amie suspected that the event's very light turnout (less than 10 fans showed up!) could have been the reason Matt no-showed, but the bookstore employee insisted that wasn't the case. The fans who had purchased Matt's book for him to sign were given refunds.
Amber and Matt have been uncharacteristically quiet on social media since cancelling on their event. However, Matt did post an Instagram story showing that he was at the Hartsfield-Jackson Atlanta airport a few hours ago. It is not known why he would be there, considering his signing was less than 30 minutes from Matt and Amber's Indianapolis home.
Amie said that the fans who did come out were pissed that Amber and Matt had wasted their time.
"It's really rude," she said, "especially in their home state."
UPDATE! After a late-night rant on Twitter (aimed at The Ashley for writing this story), Amber explained why she missed the event. In a series of tweets on Wednesday, Amber stated that she had been told (by someone) that the event had been cancelled.
"I would never ever just not show up to see my fans. I'm very hurt that I was told it was cancelled and that was a lie," Amber tweeted. "I will make it up to everyone for free!!! Free books or a meet anything! I would never do that on purpose!! Please know that!"
She added that both she and her publicist were not happy with the situation.
"Do you see anywhere on my social media saying I would be there..no because I was told it was cancelled babe. I'm honest I promise!" Amber tweeted to a fan. "Its my publicist and we were horrified. We do not work this way and it's not hers or my fault. That's all I can say!!"
So if it's not Amber's fault…and it's not her publicist's fault…that only leaves one other person involved. Clearly someone (whose name probably rhymes with "rat") purposely lied to Amber to ensure she didn't show up to meet her fans.
While Amber has defended herself on Twitter, Matt has remained completely silent about his book signing no-show. A 'Teen Mom OG' fan left a comment on Matt's Instagram, stating that she saw him and his friend, Jeff Bruno, in Atlanta at a poker tournament yesterday. Jeff, was, indeed, playing in a poker tournament yesterday (per online results), so it's likely that the fan is telling the truth.
DUNDUNDUN… Stay tuned, there's clearly a lot more to this story!
(Photo: MTV)