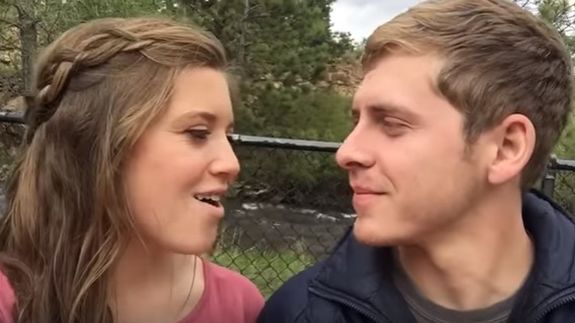 Joy Duggar is officially a married woman, and on Wednesday, TLC released some new photos of the Counting On star's recent wedding to Austin Forsyth. Details of Joy and Austin's nuptials have been scarce, but now Duggar Family fans are able to see what the wedding actually looked like.
The wedding, which will be featured in a special episode on June 12 to kick off the new season of 'Counting On,' took place at Cross Church in Arkansas on May 26.
Here are some new details we learned from pawing through the wedding pics. (Click here to see all of the wedding photos!)
Wedding Party: Joy had eight bridesmaids, but unlike her sisters who had family members and friends in their wedding party, Joy only had her family members (and future family members) standing beside her on her big day. Jill Dillard (who helped raise Joy, as part of her "buddy group") served as the matron of honor. Joy's sisters Jessa Seewald, Jinger Vuolo, Jana Duggar, Johanna Duggar and Jennifer Duggar were bridesmaids, as was Joy's sister-in-law Anna Duggar and future sister-in-law Kendra Caldwell. (Both Anna and Jill were pregnant at the wedding.)
Austin had 13 groomsmen who varied greatly in age.
Wedding Wear: Joy wore a lace-covered white dress that included pieces of her mother's wedding gown, her grandmother's wedding gown and Austin's mother's wedding gown. Austin wore a blue suit. The bridesmaids wore long, dark blue gowns and the groomsmen were decked out in gray suits trimmed in dark blue.
Decor: The stage for the ceremony was very outdoorsy, with flowers and hay (yess) hanging from the ceiling and decorating the stage floor.
Cake: Joy and Austin chose a simple, six-tier white wedding cake that was trimmed in orange, white and yellow flowers.
Getaway Car: The bride and groom left their reception in a red 4×4 truck that had been decorated with some oddly place tulle.
Surprises: As The Ashley previously reported, Joy's brother Joseph Duggar proposed to his girlfriend of a few months, Kendra Caldwell, during Joy and Austin's wedding reception. In a interview with People, Kendra said that she had no idea that Joe was planning to propose.
"I'm so happy and so shocked," she said. "There's so many words I want to say, but just shocked. I had absolutely no idea. He had the ring in his pocket so when I went to go help myself and grab mints out of his pocket, he grabbed at his pocket and I pulled my hand away. But then I quickly forgot about it."
The couple told the magazine they are considering getting hitched this fall.
Honeymoon: Joy and Austin are currently on their honeymoon. Although the couple has stated that they will be gone for awhile, they have not revealed where they are honeymooning. Austin posted a photo captioned "honeymoon" to his Instagram earlier this week, revealing that wherever they are, it is cold, as both he and Joy are wearing big jackets. In a video posted to YouTube, Joy and Austin talk about how much fun they're having.
"We are just loving the married life!" Joy says. "It's been such a blast so far!"
To learn more about all of the Duggar weddings, click here!
(Photo: YouTube)