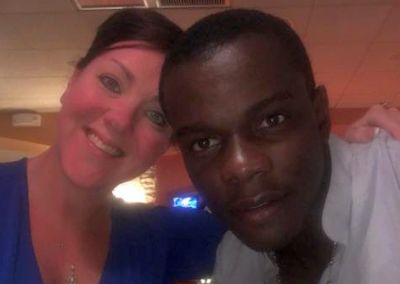 The 90 Day Fiancé family is getting bigger: Season 3 fan favorites Melanie Bowers and Devar Walters are expecting a baby!
The couple who also starred on the show's spinoff, 90 Day Fiance: Happily Ever After, announced their big news in May by posting Melanie's sonogram photos to Facebook. The couple said that their baby is due in December.
This will be Devar's first child, but Melanie already has a son from a previous marriage.
The pregnancy is not the only big news surrounding the couple, who met while Melanie was on vacation in Devar's native country, Jamaica. TLC recently announced that Melanie and Devar will also be starring on the upcoming web series 90 Day Fiance: What Now? on the TLC Go app.
The promo text for the web series gave us some more information on what the couple has been up to since we last saw them (besides making a baby!)
"Separated by work and school, Melanie and Devar don't get a lot of time together," the promo texts reads. "Devar attends school for underwater welding while living on campus in NJ four nights a week, while Melanie has been promoted at work and is traveling more than ever. The only time they have together is on the weekends which proves difficult on their relationship. In the midst of all the changes, they reveal some huge news to Mel's sister Beverly."
TLC hasn't announced when the web series will air but it will likely coincide with the new season of '90 Day Fiancé': Happy Ever After?' which premieres on June 25.