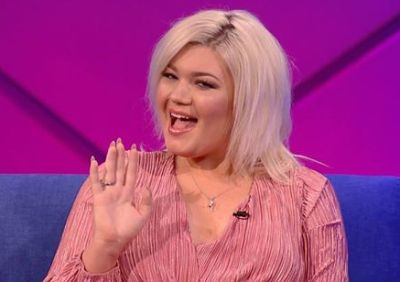 Amber Portwood took to Instagram Live late Saturday night to try to help confused Teen Mom OG fans understand what is currently going on in her life.
Amber, who has been surrounded in controversy over the last few months, mostly thanks to her fiance, Matt Baier, basically confirmed in her Instagram video that she and Matt were no longer together, and provided some details about a few other things.
The Ashley reached out to a few insiders who provided even more info on what's currently going on with the 'Teen Mom' couple. Matt has been completely silent on social media since last week, when he ditched out on his Indiana book-signing.
Anyway, here's a breakdown of what Amber said on Instagram Live on Saturday night, what Amber reportedly said during the recent 'Teen Mom OG' Reunion taping last weekend, and what The Ashley's insiders are telling her about the state of "Mamber."
Did Amber and Matt breakup? 
Amber seemed to be trying to tell fans that she and Matt have split, but had to hold back a bit, most likely due to her MTV contract. When fans asked Amber if she and Matt are together, she tellingly said, "Do you see him in my bed?" When fans asked her if she wanted more kids, she told them that she does, if she can find the right man. She told a fan she was single but wasn't sure she was able to talk about it. She also told a fan that she currently "had no man."
According to a person who claims to have attended the 'Teen Mom OG' Reunion that just taped last weekend in New York City, Amber confirmed on stage that she was no longer with Matt, and that they would not be getting married. (Please remember that The Ashley is labeling the Reunion information as 'report' because she has been unable to confirm that the person did attend the event. However, many of the details provided by the person in their post are consistent with how the Reunions that The Ashley has attended/had eyes at have run.)
The audience member and The Ashley's source confirmed, though, that Matt is still living with Amber. She reportedly showed the reunion audience, though, that she is no longer wearing her engagement rings.
Will Amber and Matt get back together…again?
The Ashley's source says that Amber is hopeful that she and Matt can work things out, but that "even she admits that it is not looking good for Matt."
The Ashley's insider added that, up until he went radio-silent earlier this week, Matt had been trying to make it seem like he and Amber were doing just fine.
"Matt is making it look like everything's hunky-dory but it's really not," The Ashley's source tells her. "Take everything Matt says with a grain of salt. Amber realizes now that he's a chronic liar and that's been one of the biggest reasons why she's considering leaving him for good."
Why the hell is Matt still living with Amber if they broke up?
The Ashley's insider provided more info on this.
"There are a lot of legal issues between the two of them that would have to be worked through first for Matt to be formally put out," the source tells The Ashley. "There is some stuff that would need to be wrapped up before they can officially call it quits. More may come out by next month."
Since Matt has lived with Amber for several years (and may even be on the paperwork for her house), she can not just kick him out. She would likely have to go through a formal eviction process.
Amber seems to still have a soft spot for Matt, though. When one fan called Matt a "weirdo" in the comments of Amber's Saturday night Instagram Live video, Amber told the fan, "He's not a weirdo he just has problems."
Is Matt in rehab? 
Since Matt has been MIA lately, some fans assumed he was shuttled off to rehab to deal with his alleged drug relapse. The Ashley's source tells her that is not the case, though.
"Matt is not in rehab right now," the insider says.
Does Matt still have access to Amber's bank accounts? 
The reunion audience member reported that Amber discusses Matt's drug use during the upcoming reunion, and stated that Amber claimed that Matt stole $120,000 from her. The audience member claims that Matt (who didn't attend the reunion taping) was called during the filming, and that Amber was screaming at him over the phone on-camera over $30,000 that Matt allegedly took to Vegas and blew. She did reportedly confirm that, at that time, Matt still had access to her bank accounts. (Again, The Ashley advises that you take everything attributed to the audience member with a grain of salt until The Ashley can officially confirm it, or it is shown on television.)
Will we get to see any of this on 'Teen Mom OG?'
The Ashley's insider says absolutely yes! The crews have been filming Amber in recent weeks, so that footage will eventually make its way to the air.
The Ashley will update this when she gets more information.
(Photos: MTV, Instagram)