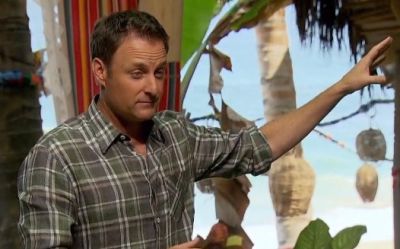 There is major trouble in 'Paradise!'
Just days after production of the fourth season of Bachelor in Paradise began in Mexico, the filming has come to a screeching halt, due to allegations of 'misconduct.' E! News broke the news on Sunday that all filming of the 'Bachelor' spin-off has been suspended, and Warner Bros. confirmed the news in a statement.
"We have become aware of allegations of misconduct on the set of 'Bachelor in Paradise' in Mexico," the statement reads. "We have suspended production and we are conducting a thorough investigation of these allegations. Once the investigation is complete, we will take appropriate responsive action."
'Bachelor' guru Reality Steve responded to the news on his Twitter account, stating that all of the cast members who were in Mexico filming have been flown back to Houston. (He even posted a photo of most of the cast at the airport.)
It is not yet known what sort of 'misconduct' caused the filming to be shut down.
"What I'm hearing isn't good, but don't know exact details," Reality Steve tweeted.
UPDATE! Reality Steve is spilling more details about the shut-down.
"From I've been told, the show has been cancelled," Steve just tweeted. "They're done. Everyone's being sent home."
Although Steve didn't go into specific details about what 'misconduct' caused the shut-down, he did offer a few tidbits of info on Twitter.
"DeMario [Jackson] & Corinne [Olympios] are the contestants in question. Details are still sketchy, but this is not a good situation," Steve tweeted. "I'm not at liberty to throw accusations out. But yeah, drinking, sex, cameras, etc. You get the picture. This is a real shi**y situation to be honest. I don't know enough details to speculate. Just know it involves DeMario & Corinne."
He later added, "I know you're immediately thinking the worst. I honestly don't think it's that. At least not what I heard…From what I was told, no one involved was hurt. Production had to stop, the show is basically cancelled and there's an investigation going on."
UPDATE #2: Reality Steve pointed his fans to the Twitter account of LA Times writer Amy Kaufman (who is currently writing a book about 'The Bachelor') to get more info on what happened.
"On the first day of production, Sunday, DeMario and Corinne got extremely drunk, per my source," Amy tweeted. "Corinne came up to DeMario at the bar and kissed him. They proceeded to the pool, where they got naked. From this point forward, things turned into "soft core p0rn." They did not have sex. But it was very raunchy.
"The following day, Monday, a producer who witnessed this hook-up did not show up to work. According to my source, this producer went on to sue the production for misconduct over what she witnessed between DeMario and Corinne. DeMario and Corinne were both shown footage of their hookup during their interviews in the days following their rendezvous. My source was told a producer filed a "third party complaint," to clarify my above comment."
UPDATE #3: Click here for the latest info.
(Photo: ABC)