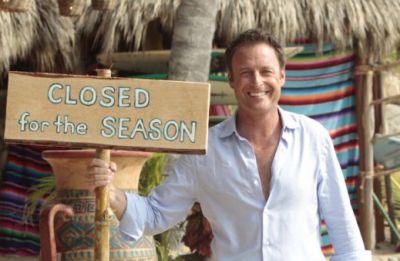 News broke on Sunday that production of the fourth season of Bachelor in Paradise had been shut down, just one week after filming began in Mexico. Details were scarce on Sunday as to what caused the shutdown, although Warner Bros. did issue a statement that confirmed that 'allegations of misconduct' were to blame.
After the news broke, 'Bachelor' guru Reality Steve revealed that the 'misconduct' reportedly involved cast members DeMario Jackson and Corinne Olympios. By Monday, more details about the allegedly incident that caused the shutdown had been revealed, and they are quite disturbing.
According to People, the shutdown took place after a field producer reported witnessing DeMario and Corinne getting down and dirty in the pool, while Corinne was allegedly "too drunk to consent" to the sexual activity. Producers allegedly continued to film, despite the fact that "[Corinne] was out of it," as one cast member told ET.
TMZ reports that Corinne is now saying (off-the-record, at least) that she was in a state of blackout-drunk and does not remember being naked in the pool with DeMario.
"The day after the swimming pool incident she claims fellow cast members began telling her stories of what went down with DeMario," TMZ reports. "She says several cast members told her they had voiced concern to people on the production crew that she was in no position to consent to sexual activity, but the crew did not heed their warnings…Production sources insist other cast members did not complain to anyone that Corinne was too drunk to form an intent to have sexual contact with DeMario."
Earlier, TMZ reported (in graphic detail) what actually their sources say went down in the pool that day. The site's sources say that, while DeMario and Corinne didn't actually have sex, they did basically everything else, causing the production staff member who reported the incident to reportedly liken the incident to "softcore p0rn."
TMZ reported that, after a full day of drinking, Corinne allegedly ended up in DeMario's lap and the pair started making out and engaging in "intense rubbing."
"DeMario says Corinne then suggested they retreat to the pool, with the cameras rolling. They took off their clothes, started making out and 'rubbing, touching and fingering,'" the site's source reported. "He says she put her genitals in his face and he began licking, but we're told this allegation is a big point of contention and others disagree with his account. He says he was not able to engage in intercourse because of the alcohol."
A field producer felt "uncomfortable" and eventually filed a formal misconduct in the workplace complaint.
People reports that producers eventually shut down taping and placed all of the 'Paradisers' on lockdown. Since many of the contestants had not seen the incident, they had no idea what was happening.
"We were told to stay in a certain part of the [resort] while they figured out what the hell had happened," one contestant told the magazine. "We knew something bad had happened; there was a dark energy that came around the house."
"We're pissed that this whole thing happened," the contestant said. "[Production] could have stopped this before it got this far."
Corinne is also angry at the show's production team, according to TMZ. While she "doesn't fully blame DeMario because he too was drunk" she is angry at the producers for letting things get so out of hand. TMZ reports that she has hired a lawyer.
All of the media outlets are reporting that it is extremely unlikely that production of the season will ever resume. There is also no word on whether 'Bachelor in Paradise' will ever come back for another season after this.
So far, DeMario, Corinne and the show's producers have not spoken out directly about any of the allegations. The show's executive producers, Mike Fleiss and Elan Gale have not provided any statements to the media or addressed the incident on social media yet. The show's host, Chris Harrison, has also remained silent.
UPDATE! Click here for the latest update on the 'Bachelor in Paradise' Scandal.
(Photo: ABC)