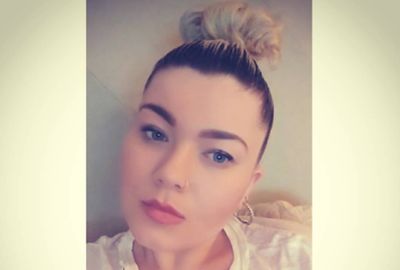 Amber Portwood took to Instagram Live for the second night in a row on Sunday to answer fans' questions about everything from her relationship with (former) fiance Matt Baier, to pregnancy rumors.
The Teen Mom OG star, who did an Instagram Live for fans on Saturday night, also addressed where she stands on the sex tape she was considering making last month with Vivid Entertainment.
(Amber and Matt both confirmed that they had met with Vivid CEO Steven Hirsch last month in California about possibly doing a sex tape.)
In her Instagram Live session on Sunday, Amber told fans that she has decided not to film the sex tape.
"There's no p0rn tape, guys," Amber told fans. "I'm not doing p0rn, it was just a meeting."
Here are some other interesting things Amber discussed during her Instagram Live session:
On the status of her relationship with Matt: "We are not together. Matt has some issues he needs to work on and then we can see what happens. I'm not with him, but don't say mean things [about him]." (She also confirmed that Matt was not in her basement at the time she was on Instagram, which was something one fan hilariously claimed, and that Matt was not currently in rehab.)
On whether or not she's using drugs again: "Why would people even say that? I'm not on drugs. If I were on drugs my pupils would not look like this."
On the rumor that she's pregnant: "I'm not pregnant! I don't know where that even came from."
On the possibility of her going to college: "I am not in school right now. I don't have time… I would like to go to school someday, to go for sociology like I had planned."
On money: [When a fan asked her if her net worth was really $280,0000]: "Hahaha no, that's just one of my cars." [She was implying that she makes much, much more than that amount.] "Money doesn't buy you happiness…obviously."
On Farrah Abraham: "I really don't have a vendetta against this chick. I've never not been cool with her."
Amber also stated that she was leaving Indiana in a few days to head to Los Angeles, where she would be staying for 18 days. She did not, however, tells fans why she was heading to California for such an extended period of time.
(Photo: Instagram)