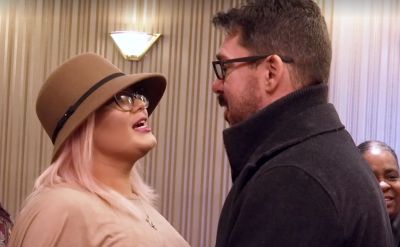 Teen Mom OG stars Amber Portwood and Matt Baier are reportedly going to attempt to milk even more TV time out of their trainwreck of a relationship! Radar Online reported today that the previously engaged couple, who recently split up (again), will soon head to California to film a season of Marriage Boot Camp: Reality Stars!
The Ashley's source confirms Radar's report that Amber and Matt are going to appear on the relationship counseling show. The Ashley's source also tells her that this has been in the works for a while (not just since Amber and Matt broke up).
"They knew for at least a month they were going to do it, and were telling people when they were in Los Angeles for the MTV Awards that they were coming back to California soon to film the show," the source tells The Ashley. "Amber's manager arranged the whole thing. Most of her clients eventually end up on a 'Marriage Boot Camp' show so it's not really a surprise."
Amber even hinted during an Instagram Live session on Sunday that she would soon be heading to California to work for 18 days, but did not reveal the reason for her extended trip.
Although Amber and Matt are not together (for now), Matt hasn't officially been kicked out of the home they share. As The Ashley previously told you, there are some legal things that need to happen in order for Matt to get the boot.
The Ashley's source for that story also stated that Amber & Co. would know more in about a month in regard to the status of Amber and Matt. The trip to 'Marriage Boot Camp' was what that source was likely referring to.
Amber and Matt certainly won't be the first 'Teen Mom' couple to get televised couple's therapy on the show. Their 'Teen Mom OG' co-stars Farrah Abraham, Debra Danielsen and Michael Abraham are currently starring on the special "Family Edition" season of the show, and Teen Mom 2 stars Kail Lowry and Javi Marroquin taped a season of the show last October. (That season will air after "Family Edition" ends.)
Amber and Matt have not officially confirmed that they are going on 'MBC' (likely because of their show contract), but it is for sure happening!
(Photo: MTV)