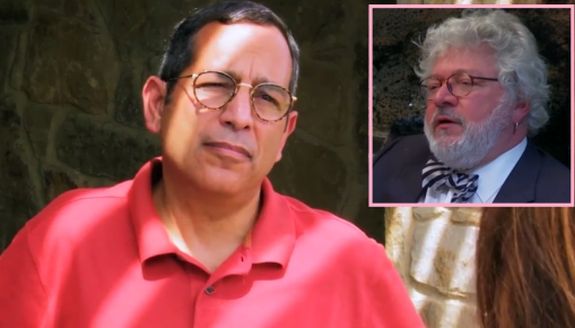 Farrah Abraham has been known to get into spats, and apparently she's not the only member of the Abraham family who's not afraid to throw down!
Farrah's father, Michael Abraham, reportedly got into a fight with Dr. David Mertz, the fiance of his ex-wife, Debra Danielsen. According to The Dirty, the near-brawl went down at Farrah's Gatsby-themed birthday party in New York City earlier this month.
The Dirty spoke with an "insider" who reported that Deb's man was starting drama all night, and eventually he asked Michael to step outside.
"Once outside, Dr. David started arguing with Michael claiming he didn't want Michael talking about him or Debra on social media anymore," the site reports. "Michael denies this as it's something he's never done.
"Michael had a bodyguard present with him, but that didn't stop Dr. David from continuing to get close to Michael, and even at one point placing a finger on Michael's chest," the source said.
(Can we stop here to appreciate the fact that Michael is taking bodyguards to his daughter's birthday party?)
Anyway, "another source at the party" told The Dirty that Dr. David started going off on Michael about "how whacked out Farrah is and that she needs help."
Michael was reportedly unhappy that Dr. David was trying to diagnose Farrah, despite the fact that he is not a psychologist or psychiatrist. (Dr. David is actually an infectious disease specialist, in case you care.)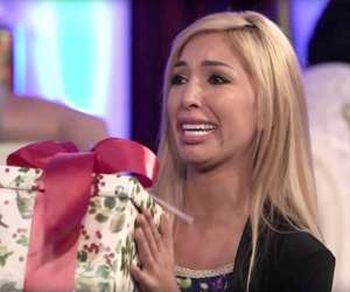 "He said he wants him and Debra to be happy and leave him alone," the source said of Michael. "Michael also told Dr. David to not try to father Farrah, as she has a father."
The source said even though "Dr. David kept getting physically close to Michael, Michael didn't react or touch him. Michael ended up walking away and going back inside."
(It should be noted the "source" was probably Michael himself. He's been known to speak to The Dirty frequently.)
After the spat with Dr. David, Michael reportedly took Debra aside and spoke to her about what went down. Michael also reportedly told Debra that if she would just take responsibility for things she's done in the past— specifically hitting Farrah on camera—that would improve her relationship with their daughter.
Michael isn't the only person in Farrah's crew who has issues with Dr. David. Sources at the party said Farrah didn't even want to speak to her mother's fiancé, and Farrah's on-again-off-again boyfriend, Simon Saran, recently referred to Dr. David as "Colonel Sanders" and a "jobless punk."
Don't worry– camera crews were in attendance so we will get to see this all play out on Teen Mom OG eventually.
(Photos: MTV)