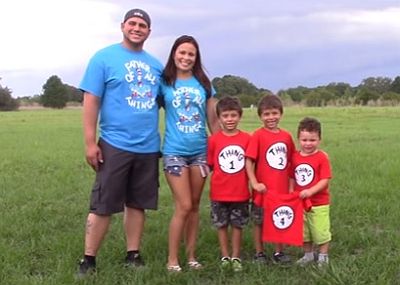 Jennifer Del Rio, who starred on the third season of 16 and Pregnant, just announced that she's pregnant with her fourth child. While nearly all of the girls who have starred on the MTV reality show have gone on to have a second child, and many now have three kids, Jennifer will be the first girl from the series to have a fourth.
On Wednesday, Jennifer announced her pregnancy via her social media accounts and YouTube channel.
"I'm having a baby!" Jennifer said in a video posted to her YouTube channel. "Number four is on its way!"
Jennifer's episode of "16 and Pregnant," which first aired in April 2011, is memorable because she was one of the only girls from the show to have twins. (Her sons Josh and Noah are now six years old.) Fans also recall the episode because of the domestic dispute between Jennifer and her baby's father, Josh Smith, that took place on the side of the road and was captured on film.
In 2013, Jennifer married Luis Guiterrez and gave birth to her third son, Sebastian, a year later.
Jennifer recently made a video in which she answered questions about her experience on "16 and Pregnant," and about her life today.
"I'm now happily married for four-and-a-half years. I have a third child, his name is Sebastian…We have our own house and we are also moving because we just bought some land to put a house on," she said in the video. "Life has changed drastically [since I was on the show]."
She also revealed what became of her the twins' father, Josh.
"The twins do get to see their father," Jennifer said. "He doesn't have visitation, nothing set in stone in court. That will never happen. But the boys do see him and they do talk to him. Josh is in their life. He's not full-time in their lives…his life has been a little rocky for the last couple of years. He's now trying to get things steady and get his life together so he could work on having a bigger part in Josh and Noah's life."
Now 23, Jennifer said she is currently attending college.
"I have continued my education," she said. "I had always promised myself that I'd go back and get my GED after I dropped out of high school. I did that back in 2011. I started college but didn't do it full time until a few years ago. I'm getting my associate's degree in criminal justice and criminology. I was a correctional officer for a little bit… but it did not work out with my schedule and my plan with the kids. As long as my kids are young and at home, that's where I want to be.
"I'm almost done with school, so that's really exciting…once it's done I'll go on to my Bachelors degree," she added.
Jennifer has not revealed when she is due to give birth to her fourth child.
Watch her pregnancy announcement video below:
(Photo: YouTube)