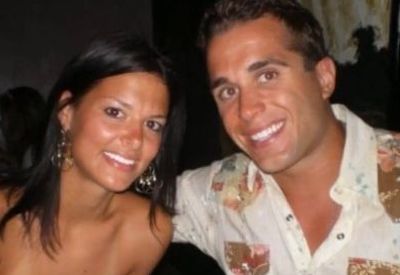 Susie Meister and Sarah Rice are spilling The Challenge tea!
The pair recently revealed some juicy info on their "Brain Candy" podcast in regard to 'Challenge' stars KellyAnne Judd and married 'Challenge' couple Tori and Brad Fiorenza. When we last heard from Brad, he was married to Tori but according to Susie and Sarah, a lot has changed since then!
Susie (who is still close friends with Tori) confirmed on the podcast that Brad and Tori are now divorced. While it's been speculated for some time that Tori and Brad split, this is the first time their divorce has been confirmed. Brad and Tori are the parents of two young sons.
Susie also hinted that fellow 'Challenge' alum KellyAnne is now involved with Brad.
After telling fans that they have info on new "soulmates," Sarah told Susie to "give out half of it."
Susie stated that KellyAnne is half of the "soulmate" equation, and then immediately followed up that statement with "Tori and Brad are divorced, so that is no longer an issue."
According to Susie and Sarah's podcast, Brad and KellyAnne were/are in some sort of long-distance relationship and had once claimed to be "soulmates."
Brad (an alum of Real World: San Diego) and Tori (a former Road Rules kid) met on a 'Challenge,' dated on a 'Challenge' and nearly broke off their engagement because of a 'Challenge.' (Tori famously gave Brad his ring back after an argument during "The Duel II") They overcame their differences and married in April 2010.
During 2010's "Cutthroat" season, Brad and Tori teamed up and became two of the four winners of that season. That was the last 'Challenge' that Brad and Tori did. Recently, though, both have stated that they'd be interested in competing in a future 'Challenge.' However, they will not be on the upcoming "Dirty 30" season of the show.
UPDATE! Tori has confirmed her divorce on Twitter, and stated that she is not mad at Susie for "spilling the beans."
"I didn't hear the episode, but Susie and I are all good," Tori tweeted. "I'm not that big of a deal where my divorce requires a statement. Haha"
"What? They've been divorced a long time. Tori and I talk almost every day. We're all good," Susie wrote.
(Photo: Facebook)