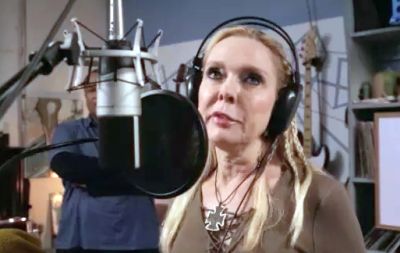 Debra Danielsen has released another rap song as her alter-ego, Debz OG, and this one's for all the haters.
Or something.
The Teen Mom OG star announced on her Twitter account on Thursday that her latest rap single "Suga Momma" is now available on iTunes.
Unlike her first rap release, this new song is a collaboration. Unfortunately for us, it's not Deb's ex-husband Michael Abraham, or daughter Farrah Abraham spitting bars alongside Deb. The new track instead features rapper Money Carsin.
While the track is consists mostly of Money Carsin doing the rapping, Debra is piped in occasionally to deliver the following:
"I'm a fly suga momma and it's plain to see/ No one does it better than Debz OG/ All the people hatin', I'm gonna let them be/ They're not gettin' money like Debz OG!"
Money Carsin continues to rap about Deb and her haters and whatnot. It sounds as if he is propositioning "Debz OG" to be his "suga momma." He also discusses crying angels, how Debz is a "bad boujee all the way now" and how Debz is "all about the paper."
This is, of course, not Debra's first venture into rapping. Her first single, the self-titled "Debz OG", was released in February. (Click here to listen to that musical masterpiece.)
The music video for "Suga Momma" has yet to be released, but the tune is available for purchase on iTunes.
Hey, you've gotta give it to Deb; at least her music is better than Farrah's!
Watch the video below to listen to the entire track.
(Photo: Facebook)