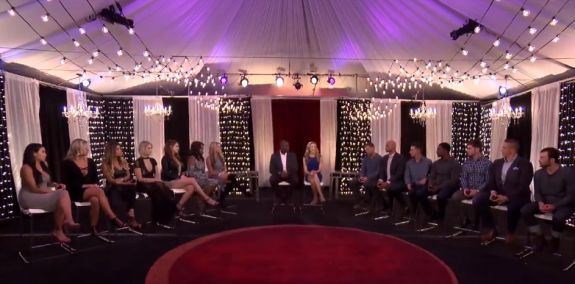 TLC's new reality show The Spouse House may be the most "WTF?" show of the summer!
From the people who brought you Married at First Sight, a show about marrying someone you just met, comes The Spouse House, a show that gives its contestants one simple rule: get married or get out!
The show, which will air on TLC this summer, will put seven women and seven men from the Chicago area all in the same house together, and give them eight weeks to find The One among their housemates.
In the trailer, The Spouse House is billed as "the one place where everyone wants to get married!"
Even the participants know that going on a show like this to find true love is kind of ridiculous.
"It's absolutely crazy," one guys says in the trailer. "But I will do absolutely anything and everything to find love."
People is reporting that each episode will follow the participants as they take part in a variety of activities and get to know each other. There will be relationship experts on hand, Dr. Isaiah Pickens and Christen Hassler, who will guide them along on their journey to find their spouses.
Here's where 'The Spouse House' differs from other dating shows like The Bachelor: There will be an engagement ceremony at the end of each episode. If no one proposes, two people will get evicted to make room for two new housemates. (It is not yet known how it will be decided which two housemates are getting the boot.)
The couples that do decide to get married will remain in the house living as newlyweds and interacting with the remaining single people in the house.
If that's not a recipe for finding true love, we don't know what is!
People gave us the run-down on each housemate:
Ashley P. has never been in a relationship for more than three months. She blames this on a short attention span and thinking she's better than men.
Danny is trying to have a marriage that emulates his parents' 32-year marriage. (Well, bro, putting yourself on this show is probably not going to help you achieve that goal!)
Brianne is the self-proclaimed queen of the three-month relationship and is obsessed with Mariah Carey.
Chris is a therapist eager to find a lasting love like his parents have.
Ashley D. is a fitness fanatic who insists on finding a lover who also loves the gym.
Albert is an entrepreneur who has opened three gyms and is divorced with three kids.
Kelli Jo is a Southern belle flight attendant who recently broke off an engagement.
Tom is a salesman who serves as a big brother to a 12-year-old boy.
Yesnaya is a physical therapy student with an 8-year-old son.
Darren is a divorced professional pilot.
Toyya is probation officer whose one true love was tragically murdered.
Jimmy is a divorced firefighter.
Missy has two masters' degrees and works in sports medicine. She wants to marry a man who has gone through divorce so that he knows how to be a good husband now.
Jonathan is real estate agent trying to get over a broken heart.
'The Spouse House' premieres July 9 at on TLC. Watch the first trailer below:
(Photo: TLC)