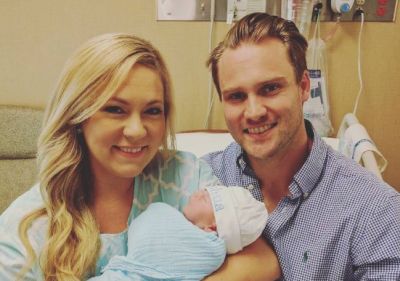 It's a boy for Arranged Season 1 couple Josh and Meghan Tavernier!
The couple, who got married on the show and later kept fans updated on their lives via the series Arranged Life, welcomed their son on June 12. The baby boy was named Joshua, after his father.
"Please meet Joshua Dee Tavernier, Jr.!" Meghan captioned a family photo posted to her Instagram account. "We're so excited that he's finally here! He arrived today at 11:13 a.m."
Baby Joshua was born a week before his due date, allowing his dad to celebrate his very first Father's Day.
"Watching you this week transition into the role of daddy has made me fall even more in love with you," Meghan wrote to Josh on Instagram. "We are so lucky to have you! Thank you for all that you do for our little family. I sure do love all my boys!"
Meghan and Joshua first announced their pregnancy in November. They are the second couple from 'Arranged' Season 1 to have a baby; their co-stars Christian and Maria Miller welcomed their first child in May 2016. The third couple from Season 1, Ragini and Veeral Gajjar are still married but have not had children.
(Photos: Instagram)