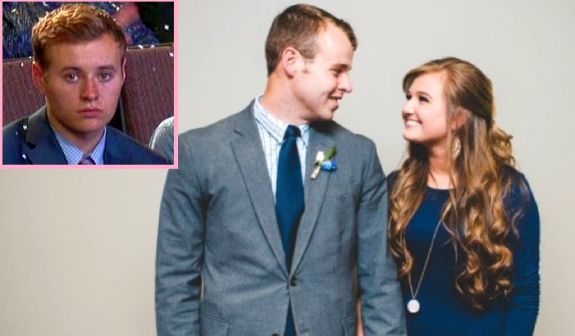 File this one under 'report' kids….
Counting On fans know that the Duggars are all about sharing—but does that include sharing girlfriends!?
The Hollywood Gossip is reporting that before Joseph Duggar started dating his now-fiancé, Kendra Caldwell, she was seeing someone else….Joseph's younger brother Jedidiah!
On the recent season premiere episode of 'Counting On,' fans watched Joseph propose to Kendra during his sister Joy-Anna's wedding reception. Since the Duggar and Caldwell families are longtime friends (Kendra's pastor father even officiated Joy and Austin's wedding ceremony), the families seemed ecstatic that Joseph and Kendra were engaged. However, that may not be the whole story…
The Hollywood Gossip interviewed a business associate of the Duggar family, who said that Kendra, 18, was initially courting Jedidiah, also 18. The business associate says that 22-year-old Joseph "moved in and bumped Jedidiah out" during the beginning of his brother's relationship with Kendra.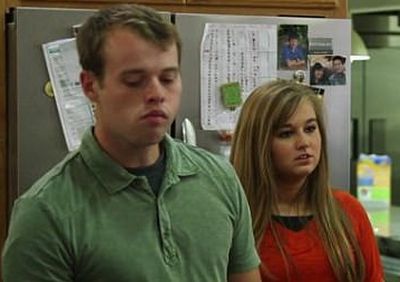 Yikes. Talk about sibling rivalry!
The source said there was a period of hostility between the brothers over the Kendra situation, but Jedidiah eventually wrote Joseph a letter, giving his blessing to their relationship.
The source didn't know the reason for the courting switch but said, "there's a whole world that goes on [with the Duggars] that really isn't so. When the cameras aren't rolling it's a whole different life."
How did Kendra feel about being promised to two different Duggar brothers? Well, according to the source she may not have had much of a choice but to go along with it. The source said that it was decided by Kendra's father who she was to court.
Jedidiah's unsuccessful bid for Kendra is not the only failed Duggar boy courtship. In 2015, Josiah Duggar began courting 17-year-old Marjorie Jackson. However, their relationship broke up soon after it began, right around the time that Josh Duggar's sex abuse scandal hit the news.
Speaking of Josh, it's been long-rumored that he, too, had an unsuccessful courtship before he began courting his now-wife, Anna.
Since Joseph snagged Kendra, he is the only Duggar boy (other than Josh) to currently be in a relationship. The rest of the family's boys (including Jedidiah) are still single.
(Photos: TLC)