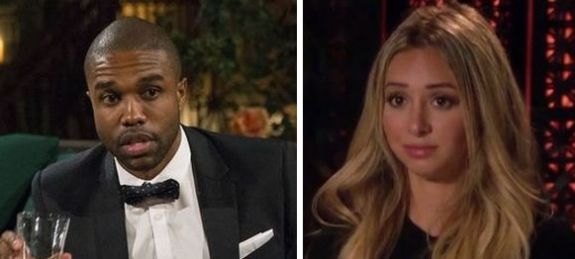 A gaggle of former Bachelor and Bachelorette stars are heading back to the beach to resume filming the previously halted fourth season of Bachelor in Paradise, but the two stars named in the show's recent scandal will reportedly not be returning.
Multiple outlets are reporting that, while most of the original Season 4 cast members have agreed to continue filming the show, Corinne Olympios and DeMario Jackson will not be coming back.
As The Ashley previously reported, the pair were involved in a scandal that caused the production of Season 4 to be suspended earlier this month, and an investigation was launched to see if misconduct allegations filed by a show producer had warrant. Earlier this week, Warner Bros. announced that its investigation found that no misconduct had taken place.
Although DeMario was cleared of any wrongdoing, he apparently has no interest in continuing to film the show. According to TMZ, the whole incident caused so much anxiety for DeMario that he's now seeing a therapist. The site also reports that DeMario confirmed he was invited to return to 'Paradise' by producers but that he declined.
As for Corinne, her lawyer recently stated that her team will continue its own investigation into what happened. TMZ reports that she was not invited back to 'Paradise' and will likely never appear on any 'Bachelor'-related show again.
Although Corinne and DeMario won't be back for margaritas and make outs in 'Paradise,' the other original Season 4 cast members have agreed to go back. Amanda Stanton confirmed to People that she and everyone else has signed on to return to Mexico and will begin filming within the next few days.
"I'm excited to be going back and I'm glad we're all able to go back," she told the magazine. "But it's just kind of interesting, no one knows how it's going to work out."
People also reported that producers were scrambling to assemble the cast after Warner Bros. ended its investigation. According to the magazine, the people who signed on to return to 'Paradise' would receive $12,500, and have the opportunity to earn more (depending on how long they last on the show).
'Bachelor in Paradise' Season 4 will air sometime this summer.
(Photos: ABC)