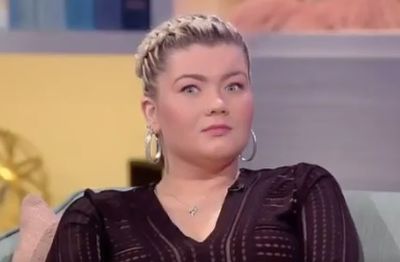 Amber Portwood and Matt Baier are currently duking it out (and/or working on their problems) while filming an upcoming season of Marriage Boot Camp: Reality Stars, but Amber recently revealed just how creepy her relationship Matt had become.
During Monday night's "Teen Mom Unseen Moments" special, Amber confirmed that she and Matt are broken up (for now), and admitted that her former fiance is a "pathological liar."
"Me and him aren't quite together anymore," Amber said on the special, which was filmed earlier this month. "We aren't engaged anymore…I kicked him out of the house the night before I even came here. He was in a hotel, but he's back at the house right now though. We're working on stuff."
"I needed my alone time," she added. "It felt good to just be alone, and be with my cousin and my family. They've embraced me even though I kind of pushed them away for a long time."
Amber can't quite quit Matt, though.
"I'm willing to move forward [with the relationship] if he's willing to change," she said. "But if he's not going to really soon, he's not going to be in a good place with me…he's going to really have to change his lying. I feel like he's a huge pathological liar. I think he needs help."
The episode also revealed that Matt kept Amber's driver's license in his possession so that she would have to ask him for it whenever she wanted to drive a car. When a show security guard and producer later expressed concern over this very strange behavior, Amber told them that Matt held her license because "it makes him feel better about himself."
She added that it was Matt's way of controlling her.
"He's so insecure that he doesn't want to lose me," she said. "It's his way of [keeping control]."
Amber revealed during the Unseen Moments show that Matt had been holding onto her license for two years!
"Any time I needed it, I'd have to ask him," she said, adding that she no longer allows him to hold it. "That was a while ago."
Amber also confirmed that Matt handled all of their bills and finances, which seemed to alarm her co-stars Maci Bookout and Catelynn Lowell.
"He just kind of took everything upon himself to start doing s**t like that," Amber said. "I just realized within the last few months that I'm not doing this anymore. I'm gonna start taking control of a lot of stuff."
Watch Amber discuss where her relationship with Matt stands in the Unseen Moments episode clip below:
Unseen 13 pic.twitter.com/Am2ZDKLHGD

— Ms Anon Mafioso™ (@Anon_Mafioso) June 21, 2017
(Photo: MTV)