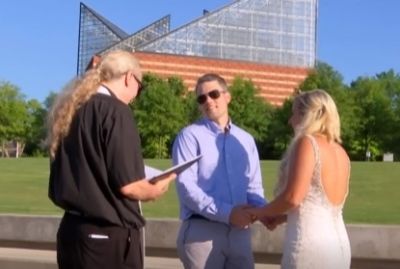 Earlier this month, The Ashley broke the news that Teen Mom OG stars Ryan Edwards and Mackenzie Standifer had moved up their wedding date and eventually tied the knot in May, instead of November as they had originally planned.
Ryan and Mackenzie (and MTV) have stayed quiet and not revealed any details of the impromptu wedding, but it looks like 'Teen Mom OG' viewers will get to watch the couple tie the knot on next week's episode.
In a sneak peek clip of the wedding scene, Ryan and Mackenzie (dressed in their wedding clothes) arrive at the wedding spot, which is by the river next to the Chattanooga Aquarium. They tell Ryan's father Larry that they do not plan to tell Ryan's son Bentley that they are married.
Ryan's mother, Jen, appears to be having a hard time dealing with the fact that her only son is having a quickie wedding.
"Mom, it don't matter if there are a hundred people or two people," Ryan tells his sobbing mother. "It just matters as long as we love each other."
"Yeah, but the most important people aren't here!" Jen wails. (We can assume she's talking about Bentley and Mackenzie's son, Hudson, and possibly Mackenzie's family, who are also absent.)
"But they will be," Ryan and Larry tell Jen. (This may mean that there will a second wedding that includes the kids?)
The wedding officiant arrives (in all his ponytailed glory) and begins the wedding ceremony.
We are not, however, told the reason why Ryan and Mackenzie were rushing to get married.
Watch the wedding clip below!
(Photo: MTV)