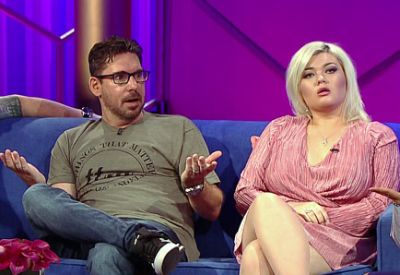 It looks like the Teen Mom OG camera crews will be filming more court scenes for the show's upcoming season!
Amber Portwood went on a Twitter rant (again) on Sunday, but this time, her rage was aimed at her former fiance, Matt Baier. Amber and Matt have been in Los Angeles for the last few weeks filming Marriage Boot Camp: Reality Stars, and, judging from the tweets, it appears that the show was not successful in bringing the estranged couple back together.
When Matt asked his Twitter followers on Sunday what they had for the long 4th of July weekend, Amber revealed what Matt's own plans were.
"Long weekend of getting dumped!" she told him.
She followed it up with a string of tweets, most of which have now been deleted. It appears that Amber was not happy with Matt's choice of post-'Boot Camp' activity.
"Been 2 days and @mattbEPT is already posting videos on Instagram of him at someone's house with 50 bottles of liqueur everywhere..it's on!" she tweeted. (She was most likely talking about this photo that Matt posted to his Instagram story. Note the liquor bottles at the very bottom of the photo.)
She then offered some advice to her ex.
"I would lawyer up sweetheart," she tweeted to Matt. "You owe me a bit of change. I'll pray for you."
Amber recently revealed that Matt drained several of their joint savings account and has spent hundreds of thousands of dollars of her (their?) money.
Throughout all of the drama surrounding his relationship with Amber over the past few months, Matt has continued to act like nothing is wrong in their relationship. He continues to use a photo of himself and Amber as his Twitter profile photo, and still has plenty of photos of Amber and her daughter Leah on his Instagram account. Amber is none-too-happy about that, apparently.
"And take all of my kid's pics of your dumb social media and me while you're at it," Amber tweeted to Matt. "Thanks have fun at whoever's house your at."
At press time, Amber and Leah's photos remained on Matt's Instagram (although he has since changed his Instagram profile photo to an Amber-less pic).
Before Amber and Matt left to film 'Marriage Boot Camp,' Matt was living in Amber's house, even though that they had split up. She had stated that she hoped they could work things out, despite the fact that she believes Matt is a pathological liar. It appears that she has had a change of heart over the last week or so, though.
(Photo: MTV)