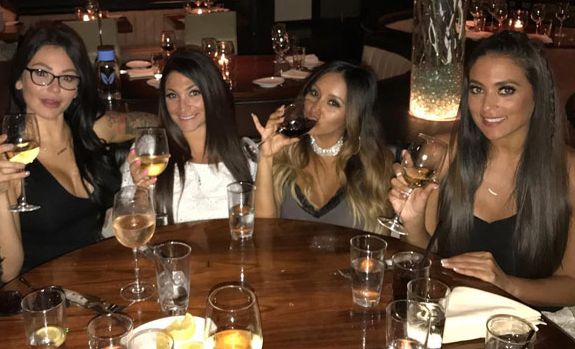 There's something happening with the former cast of Jersey Shore…and there are pictures to prove it!
There have been rumors of a 'Jersey Shore' reunion for quite some time, but Nicole "Snooki" Polizzi and Mike "The Situation" Sorrentino seem to be confirming that the "GTL" crew is be coming back into our lives—at least for a little while, anyway.
Mike recently confirmed to In Touch Weekly that, in regard to reuniting with his old roommates, "something did happen and it was awesome." While Mike didn't go into detail about what he was referring to, there are numerous photos floating around the Interwebs of the 'Jersey Shore' cast out on the boardwalk last month, with a camera crew following them around! (Starcasm first spotted the fan-posted pics online!)
UMMMM THIS IS THE CAST OF JERSEY SHORE AND I AM SO CONFUSEDDDDDDDDD pic.twitter.com/fmfetneOvE

— Matthew Farho (@farhofarho) June 17, 2017
Other photos posted by the same fan show DJ Pauly D, Deena Cortese, Jenni 'JWoww' Farley, Mike, Sammi 'Sweetheart' Giancola and Nicole walking along the boardwalk. (The photos did not show 'Shore' cast members Vinny Guadagnino or Ronnie Magro, though.)
Here's a few better pictures pic.twitter.com/FOmjFGPGkR

— Matthew Farho (@farhofarho) June 17, 2017
Those photos aren't the only proof, however. Nicole recently posted a photo of herself with Deena, Jenni and Sammi, along with the caption "Reunion Time."
While there have been multiple "reunions" of the cast since the MTV reality show went off the air in 2012, with some of the 'Shore' kids getting together to celebrate weddings and other special events, this reunion appears to be different in that it has been captured on film seemingly for some sort of future TV special.
Mike seemed to confirm the reunion in a series of tweets last month. On June 18 he tweeted "It's about that time again," and tagged his former costars. He also told fans "something new is coming" and "up to something" when directly asked if there would be more 'Jersey Shore.'
In May, he told E! News that the reunion is "more than rumors" and that "it could quite possibly be in the process." (During that same interview, Mike revealed that he and Nicole have ended their longstanding feud and are now on speaking terms again.)
On June 30, Jenni posted a video of herself (four glasses of wine in), confessing what she and the other 'Jersey Shore' girls are working on.
"Me Sam and Deena — Nicole was here — I'm going to regret this video in the morning But, me Sam and Deena are talking about how we're going to get a reunion together for the Jersey Shore cast," Jenni said in the video. "And we're going to go on a f**king island together! And get white girl wasted…It's going to be a good time."
Even if the cast of 'Jersey Shore' gets together again, we can't expect them to be all about nightclub hi-jinks, hot tub partying and smush-room sex with strangers like they used to be. After all, nearly all of the original cast members are now in their thirties and some are married and/or parents. (Jenni is married to Roger Mathews and is the mother of two children, and Nicole is married to Jionni LaValle and a mom of two. DJ Pauly D is a father of one, while Deena is engaged. Mike is in a longtime relationship with his girlfriend Lauren Pesce.)
"I've actually been texting the creator of 'Jersey Shore,'" Jenni said recently, adding that she would be interested in doing the reunion, but it would be a different show this time around.
"How do we make this happen? I need to be in bed by 9 p.m. I have to take my family and don't let me get white-girl wasted so I can't find where my family is," she said she joked to 'Jersey Shore' creator SallyAnn Salsano. "So, if you can help out with those, I'd be down."
"We're old and boring now," JWoww added.
In June, Jenni talked to Fox News about how different her life today is from when she was on 'Jersey Shore.'
"Like I honestly can't envision going out, really partying, and doing what I did years ago…. It's a different world for me," she said. "It's not even a different chapter in my life. I feel like it's a different book. I love it and I have no regrets. I'm glad I did it. I just can't imagine trying to recreate it and do it again."
(Photos: Instagram/ Twitter: @FarhoFarho)