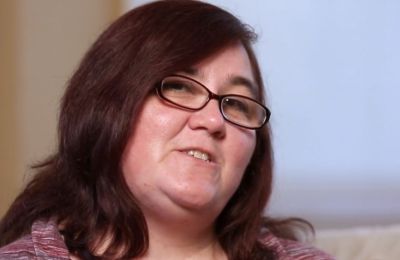 Danielle Mullins finally answered the question that 90 Day Fiancé fans have had since they first met her back on Season 2—did she really ever consummate her marriage to Mohamed Jbali?
The marriage is over, but that burning question remained unanswered (somewhat, at least)…until Sunday night's episode of 90 Day Fiancé: Happily Ever After?
During the episode, fans watched as Danielle met with her court liaison, Linda, to discuss getting Danielle's marriage to Mohamed annulled. Danielle and Mohamed had never really given fans a straight answer about their sex life (or lack thereof), at least not until this episode, when Danielle had to tell the truth to her legal liaison.
Linda tells Danielle there will be a court hearing held before her annulment can be granted. She also states that if Danielle wants an annulment as opposed to a divorce, she will have to "prove grounds for an annulment."
Danielle said she listed 'fraud' as the reason for the annulment, but Linda isn't sure that will be enough to get Danielle the annulment she wants.
"Fraud is hard to prove," Linda says, adding that there are only a few issues that would make the marriage eligible for an annulment. She then asked Danielle if her marriage to Mohamed had ever been consummated. If not, that could be grounds for an annulment.
Danielle finally admitted the truth: that she and Mohamed had "done the deed"… but only one time!
"Me and Mohammed only consummated our marriage once," Danielle says. "Three months after we got married. It does hurt because it could have been an avenue that I could have used to get the annulment."
It's not surprising that the couple only had sex one time, given that Mohamed acted as if he would rather cut off his own arm than touch Danielle during most of their season's episodes. Most fans could tell from the start that their relationship wasn't going to last, but Danielle didn't seem to see it, even after Mohamed refused to kiss her at their wedding because he said it was against his Muslim customs.
Danielle's declaration that she and Mohamed only had sex one time after their marriage somewhat matches what Mohamed said during the "90 Day Fiance: Happily Ever After?" Season 1 Reunion last year. He claimed that he and Danielle "were intimate" before their wedding and one time after. He also stated that Danielle had threatened to call immigration and get him deported if he did not continue to have sex with her.
Mohamed said that he did not want to have sex with Danielle because she smelled bad and that she peed on him.
"No one would have sex with someone like you!" Mohamed yelled at Danielle during that 2016 reunion show taping. "She has a problem that she needs to see a doctor before she has sex with someone!"
On Sunday's "90 Day Fiancé: Happily Ever After?" episode, Danielle says that she was tricked by Mohamed, who knew he had to have sex with her at least once after they got married to prevent her from getting the marriage annulled for that reason.
"I think he knew that he needed to consummate the marriage at least once so I couldn't use it against him," she says.
Due to the fact that Danielle had sex with Mohamed after their wedding, Linda says that proving fraud is probably Danielle's only hope for getting an annulment, but it won't be easy.
"It is overwhelming," Danielle said.
"90 Day Fiancé: Happily Ever After?" airs Sunday nights on TLC.
Watch the full clip below:
(Photo: TLC)