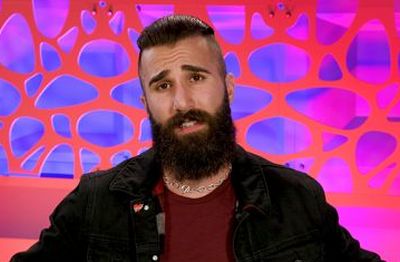 Big Brother 19 fans are up in arms over something HG Paul Abrahamian is planning to do to taunt his fellow HG Dominique Cooper.
Dominique, who is African-American, is on the block and the target this week, thanks largely to Paul. Dominique has figured out that Paul was behind her being targeted and she's been going around telling people that he's a snake (or at least that he has snake-like tendencies).
This has gotten back to Paul and he is offended that Dominique's calling him a snake. In order to mock her, Paul told several other HGs that he planned on dressing up like a snake. The only problem? He's decided to dress up as a black snake, so he is planning to wear all black clothing and a black moisturizing face mask.
Many fans have pointed out that his plan is basically to wear blackface in order to mock the only black contestant on this season. Even if you're willing to give him the benefit of the doubt that he's just trying to be funny, it's easy to see how it could be taken as racist.
Adding to this idea is that, in private and unbeknownst to Paul, Dominique has been talking about how she doesn't want to come across like the typical "angry black woman" stereotype.
Dominique isn't wrong. No African-American has ever won the game and Danielle Reyes in Season 3 is the only African-American to reach the Final 2. In fact, in the last five summer seasons, no African-American has done better than 10th place, and that was Zakiyah last season.
Once Paul revealed his plan, 'Big Brother 19' fans hit social media to discuss their feelings about it.
"He must b looking 4 a few black eyes to go with his racist costume. The real Paul. Damn shame," one person tweeted.
"On one hand, Paul doing this would be the most racist thing in #BigBrother history. On the other hand, Paul needs to be exposed. Torn," another Twitter user wrote.
"'Big Brother' BETTER do something about Paul 'cause I'm not just gonna sit here and watch them let Paul openly be racist and humiliate Don," an angry viewer tweeted.
However, some viewers felt that Paul's plan had nothing to do with race.
"How is Paul racist? What did he do? Except play 'Big Brother' and got Dom nominated.. Now y'all wanna call him racist," one person tweeted.
Race has always been a very sensitive issue on 'Big Brother.' As viewers saw with Aaryn on Season 15, racist comments and even perceptions of racism can be very damaging outside of the house and they really leave an ugly stain on the show.
Buddy TV polled its readers, asking if they thought Paul's plan was racist. While 24 percent of those polled said that the plan was "absolutely" racist, 56 percent voted that it was "not intentionally" racist but still "a bad idea." Twenty percent of those polled said that the plan was not racist and was actually "hilarious."
For more in-depth coverage of 'Big Brother 19,' head on over to Buddy TV by clicking here!
Watch the video below to see Paul explaining his idea to our HGs.
video proof of paul saying he's going to do blackface. I'd like to see his stans defend. #bb19 #WeHatePaulAbrahamian #paul #bigbrother pic.twitter.com/tvtGFuwQ79

— tyler?‍♀️ (@helenwaspushed) July 17, 2017