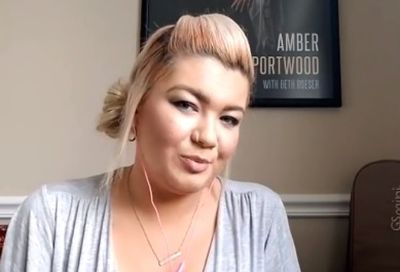 Teen Mom OG star Amber Portwood chatted about everything from her ex-fiance Matt Baier, to the money he stole from her, to her recent experience filming Marriage Boot Camp: Family Edition during an appearance last week on the "This Life #YouLive" podcast, hosted by Dr. Drew Pinsky and Mike Catherwood.
Amber was very candid during the 45-minute interview, which is the first she's done since her nasty split with Matt.
The Ashley realizes that her readers may not have the time to sit through 45 minutes of chatting, so she's broken the podcast down into handy-dandy segments!
Here's what Amber had to say about a variety of topics:
On her experience filming 'Marriage Boot Camp: Family Edition':
"Without trying to be horrible, [filming 'Marriage Boot Camp'] was horrible. Not to go against them, but it just felt very fake to me — very not genuine in some ways and I wanted to leave, I think, the first few days. Not because it was too hard for me. Every drill I did it like it was nothing but you know you have producers and directors coming up to you and trying to talk in your ear to start things. And, you know, Dr. Drew that's not me…I just told them, 'Listen don't ever come to me again trying to get me to start things with other people on the show because I'm not gonna do it.
Amber added that the show will likely air this fall.
"I don't want people watching that too much because I look crazy on there! I'm too angry on there."
Amber got in her share of fights while filming 'MBC.' As The Ashley previously reported, she brawled with Brandi Glanville while they were in the house.
On where her relationship stands with Matt now:
"Matt right now is actually in Las Vegas, he's living there," Amber told Dr. Drew. "At this point in time, we are talking, but we're not talking in a sense where we are getting back together. We argue too much. We are not living together, we have not lived together in over probably two months. I broke up with him before we went on 'Family Boot Camp.'
"I personally am just trying to better myself in a situation that put me down, and a situation where I kind of lost myself, my independence as a woman, as a person, because I was too focused on Matt.
"I'm trying to find me first before I even start thinking about another relationship in general. But we still talk, of course, because love doesn't just shut off like that. That's not how it works. I just want him to be happy."
Fans are concerned that Matt will eventually worm his way back into Amber's life (and wallet), but Amber says that she has no interest in having that happen…at least for now.
"I think everybody's worried that he's about to work his way back into my life…I am living my life, I'm alone," she said. "I'm focusing on my businesses and trying to make sure that I'm good in the future."
On how Leah handled Amber & Matt's split:
"Surprisingly, Leah has been doing great," Amber said. "She actually told Gary that she's enjoying her time just with her Mom. I think Leah missed that, actually. She still cares for Matt, but she doesn't really 100 percent understand that we're broken up…but she's very smart, and I think she already knows. I'm going to have that conversation with her."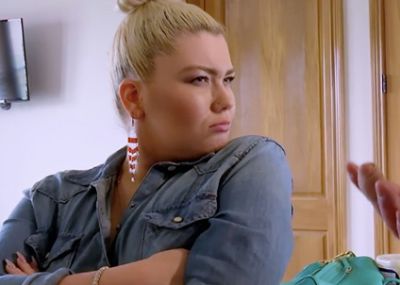 On the money Matt took:
Amber has accused Matt on numerous occasions of taking hundreds of thousands of dollars from her, and during the interview, she discussed what's going on with her finances right now.
"When it comes to the money situation, honestly I'm not trying to go after him for anything because I just want everything to be cordial and done if that's the way it's gonna be," Amber said.
This is, of course, a different story than she was telling on Twitter just a few weeks ago. Amber hinted she was coming for Matt (and her money) and advised him to "lawyer up."
"He is a man, if he makes money and he wants to pay me back, then that's something on him, but as the type of woman I am — I'd like to have my money back —but I'm good. I'm OK though. I'm doing good myself," Amber said.
On getting so much hate online: 
"I did a couple of rants on Instagram, and I got a lot of crap for it," Amber said, referring to her outbursts on social media right before she left to film 'Marriage Boot Camp.' "But it was real, and I just can't handle the pettiness anymore when it comes to people on the show. Other than that, I feel like the way I react to certain situations is way different than before.
"I just don't give a s**t anymore," Amber said. "I'm still human though, so I do care sometimes. I can only handle so much hatred toward me, or crap-talking."
On Farrah Abraham:
"I am just fine with the other ['Teen Mom'] girls. I'm even fine with Farrah. That stuff happened so long ago," Amber said, referring to when she and Farrah infamously brawled during last season's 'Teen Mom' Reunion. "The way I think of everybody is probably different than how I did a year or so ago. I'm just in the mommy mode, where I just want everybody to be happy, even people who talk crap about me. I want them to move forward and be the women they're supposed to be.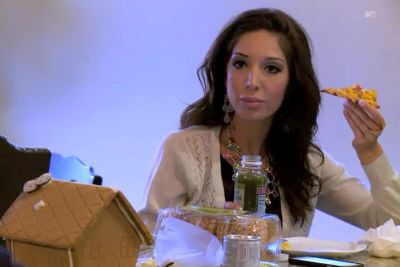 "[Farrah] is a human being and deserves to be loved," Amber added. "Even though she was talking all that crap about me, I just want her to be happy. I don't think she is, I'm sorry. That's just my opinion."
On the future of 'Teen Mom OG':
'Teen Mom' fans rejoice! Amber spilled the beans that there will be plenty more 'Teen Mom OG' coming our way!
"I can't wait for people to see the next season. I don't know if I was supposed to say that but I did so they'll get over it," Amber said.
"We are filming now. This is gonna be one of our longest seasons yet, Dr. Drew," she revealed. "It's pretty hardcore. Usually for us, for a regular season it's six or seven months of filming. But for what we're about to do I'd say it will be about nine [months] at the least. We probably get a few days in between, unless something is really going on. We get a few days in between to relax and then we're back into our days of filming, and emotions and all the stuff that makes us feel happy…This season it's going to be every few days [that we're filming].It's a pretty long season."
Watch Amber's full interview with Dr. Drew and Mike Catherwood below:
(Photos: MTV, Facebook)