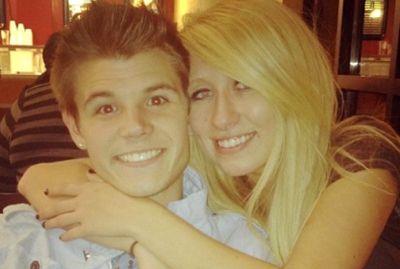 Former 16 and Pregnant star Nikkole Paulun filed an order of protection against her baby-daddy Josh Drummonds on Wednesday, one day after she wrote on Instagram that she is "so so scared" that Josh will come after her and try to kill her.
Nikkole took to her Instagram on Tuesday night to let her followers know that she is "terrified" of Josh, following a string of violent and dramatic incidents that have allegedly taken place in recent months.
Nikkole also let her followers know more about the incident that led to Josh getting arrested in Texas last month. He is due back in court in a few weeks, and Nikkole wrote that she's scared he will be let out of jail and will make his way back to their home state of Michigan to harm her.
In a very long Instagram post (that had to be continued in the post's comment section), Nikkole claimed that Josh had been violent with her and other family members. Nikkole revealed that she had quietly gotten back with Josh earlier this year, but she soon regretted that decision, due to Josh's alleged erratic behavior.
"So I never shared on Instagram that I got back together with my son's father, but if you followed me on other social media like Snapchat or twitter then you probably knew. I kept the whole relationship relatively private. Just because I knew from the start there would be a ton of judgment.
For those who don't know the back story, we got together when I was 13, I was pregnant at 15, had my son a month after I turned 16. He treated me like dirt, cheated on me etc. For years we were on & off. In 2012 he went to prison for 3 years and got out January of 2016… which is when we got back together.
Nikkole and Josh appeared on the second season of "16 and Pregnant" in 2010 while Nikkole was pregnant with their son, Lyle. After she split with Josh, she gave birth to a daughter, Ellie, who was fathered by a different man. She has stated that Josh treated Ellie like his own daughter.
I truly thought he had changed and prison had given him a positive outlook on life. Several months into being back together, things started changing for the worst (as always).
I know I was a fool for thinking he would change. Joshua suffers from a mental illness deeper than I could've ever imagined. One that he chooses to medicate with drugs. He has yet to be properly diagnosed so I can't tell you what it is, I can just tell you it's very, very horrible. (My best guess is manic bipolar) He would go weeks & months being completely normal & a great father & a great boyfriend. Then one day, a switch would flick, & he would be gone..
Nikkole claimed that she had to take Josh to the hospital one night while he was allegedly overdosing on drugs. She also stated that she eventually had to kick him out.
After months of failed rehab attempts, things & money being stolen, bill money being spent, & being threatened, I said goodbye. The next time he left, I just locked the doors. I didn't call to ask where he was or if he was okay, he wouldn't have answered anyway… not until he was done getting high at least.
Things only got worse for me though. On night 2 of him showing up & knocking on my door and me not answering, he threw a giant rock through my living room window and climbed in. I was terrified and dialed 911 and set my phone in my pocket. I acted like everything was okay to protect myself.
The cops showed up & you know what they did? Nothing. They told me "he lives here, you can't get into trouble for breaking into your own home." I cried so hard that night. I felt so hopeless. I thought I would never get out of this hell that I'm living in."
Nikkole even posted a photo of the window Josh allegedly shattered.
A few weeks after the window incident, Nikkole claims that someone in Josh's family offered him a place to live in Texas, in hopes that he would turn over a new leaf. However, his stay in Texas quickly turned ugly, according to Nikkole, when Josh Face-timed her and threatened to commit suicide with her on the line.
According to Starcasm, Nikkole posted a series of photos on Instagram, three of which showed Josh with a large cut along the inside of his forearm that was bleeding. Nikkole revealed that she took screen-shots during the Facetime to show Josh's family that he was serious about trying to commit suicide. She claimed that Josh was trying to get her to agree to let him come back to the home they had once shared with Nikkole's kids. (The photos have since been removed from Instagram.)
"This is just a tiny sliver of the mental manipulation he used on me," Nikkole wrote.
The Ashley previously reported on Josh's June arrest for strangling someone he lived with, and Nikkole's post revealed more details about that incident.
Cops were called, he went missing, he was found, taken to the hospital, refused treatment, came back to where he was staying, & strangled his family member until they passed out.
Now before I say this I am sooo sorry for that family member, and she's tough and is okay and is over it now, but y'all that would've been me. But I honestly don't think he would stop with me. & my kids could've seen this. I'm so thankful I kicked him out and had my family to protect me.
Josh is still incarcerated in Texas for that crime, but Nikkole wrote that she is fearful that he will be let out of jail and attempt to harm her.
In less than 2 weeks he has court and I'm so so scared he will be released & will try coming back here to my home. I know he needs help but he doesn't want it. I already have plans in place if he does, but it hurts my heart to think that me and the kids won't be able to stay in our own house all because of him.
If anyone is going through something similar, please feel free to reach out. This is why I've been so inactive everywhere. The whole relationship was extremely depressing for me and I'm just now getting back to my happy self."
On Wednesday, she posted a photo to her Snapchat, showing the order of protection she got against Josh. In the comments of her original Instagram post, Nikkole stated that she was afraid to file a protection order against Josh, because she feared that would make him even more angry at her.
I worry it will only agitate him more and make him want to hurt me more.
I forgot to mention a week before he went to jail he called me telling me he was going to kill me and was on his way back to Michigan to do so. I'm just really scared of him and scared to push any buttons. 
Nikkole has since deleted all photos and posts and has made no mention of the incident on Twitter.
(Photo: Facebook)