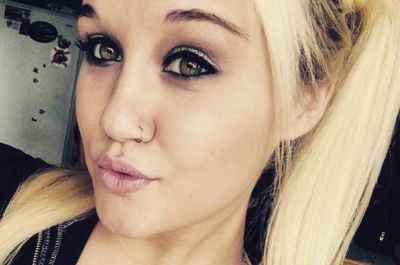 Jordan Cashmyer has led a troubled life since appearing on MTV's 16 and Pregnant in 2014, and it appears that things have gone from bad to worse for the former teen mom.
The now-22-year-old Jordan, who gave birth to her daughter Genevieve during her Season 5 episode, is now allegedly working as an escort in Baltimore. Eagle-eyed 'Teen Mom' fans on the Teen Mom Fix Facebook group spotted Jordan's ads on numerous escorting and massage "therapy" websites.
The Ashley is choosing not to include the links to the ads.
Jordan gives her name as "Raquel" in most of the ads, but is clearly the person shown in the accompanying photos. In the photos, Jordan poses seductively, with her giant 'Cashmyer' arm tattoo in clear sight. In some of the photos, she has visible bruises and looks very thin.
On her escort "resume" (yes, that's apparently a thing), Jordan states that she's been escorting since June. A verse-search of her phone number produces ads on at least six different escorting-type websites.
Jordan had previously been working as an exotic dancer at several Baltimore-area men's clubs, often working under the name "Raquel." Her baby's father (and ex-boyfriend) Derek Taylor took to social media in 2014 to expose photos of Jordan working at the strip club and to let the show's fans know that she does not help him take care of their daughter.
Genevieve, now three, has been cared for by Derek and Jordan's parents for most of her life.
Jordan, who is best remembered for being "homeless" during her "16 and Pregnant" episode, attempted suicide in 2014. Two years later, she went to rehab after admitting that "heavy drug use" had greatly affected her life over the previous two years.
In July 2016, she wrote a lengthy Facebook post in which she stated that she had stopped using drugs and alcohol after leaving rehab and had gotten her depression, anxiety and mood swings under control while hospitalized.
"For the first time in a really long time, I am thinking clearly, not using drugs or alcohol and have my depression , anxiety & mood swings pretty under control," she wrote last year. "This is the first time in a really long time that I have felt like myself since my senior year, pregnancy and the few months after that before going to work at a [strip] club."
Jordan does maintain a Twitter account, but she has not been active on it since May. (Most of her tweets are simply retweets.) In January, things seemed to be going downhill for her, based on her tweets at the time.
My life right now =?

— Jordan Cashmyer (@Cashhhhh_) January 10, 2017
To find out what's happened to the other girls from "16 and Pregnant" Season 5, click here.
(Photos: Twitter)