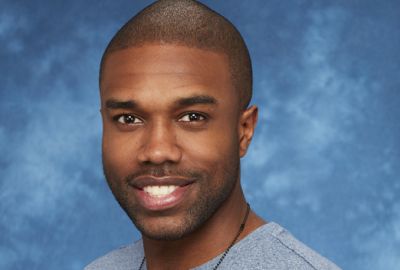 DeMario Jackson has been in the headlines over the past few months for being part of the biggest scandal to ever hit the Bachelor franchise…but back in 2008 he was just an "up-and-coming actor" trying to get Britney Spears to check out his Myspace profile.
No, seriously.
On Sunday, footage of DeMario trying to woo Britney surfaced on Twitter. It was initially discovered by Twitter user @CalebStark.
The video, which was shot in January 2008 possibly by X17, shows the Bachelor in Paradise star doing his best to woo Britney, who, at the time was in the middle of her own various scandals. At the time, she was battling her ex Kevin Federline for custody of their kids, her hair was growing back after she sheared it mid-meltdown in 2007, and she was attempting (somewhat unsuccessfully) to make a career comeback.
In the clip, a young DeMario tells Britney, "You need a black dude!"
DeMario's comment gets a laugh out of Brit, and he keeps begging her to take down his number. He even busts out the cool line, "My mom loves you!"
You seriously can't make this stuff up.
"Call me right now!" he says. "I'm dead serious. My name is DeMario Jackson. I'm an up-and-coming actor."
"I want to be like you," DeMario says, before yelling out his Myspace profile URL.
"I want everybody to see me on TV."
Mission accomplished, DeMario!
We'll be able to see more of DeMario later this summer, when he returns to 'Bachelor in Paradise' to appear on the show's reunion. He will be coming face-to-face with his former hookup (and accuser) Corinne Olympios.
Click here to watch the full clip of DeMario and Britney's interaction below. (Be advised that it does contain some naughty language.)
(Photo: ABC)