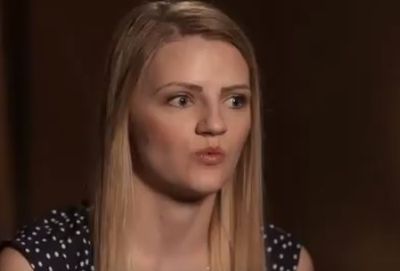 For two seasons, viewers have watched as desperate women and men have attempted to leave polygamous religious groups on A&E's reality show Escaping Polygamy, and now the network has announced that a brand-new season of the show will premiere next month.
The stars of 'Escaping Polygamy'–who all escaped polygamist groups themselves–will help several members of the FLDS, the polygamist group ruled by Warren Jeffs. While this is not the first time 'Escaping Polygamy' has ventured into the FLDS, it appears that Season 3 will spend a lot more time dealing with members of the infamous group.
In the first trailer released for the season, we see one of Warren Jeffs' sons discussing the awful things his dad did.
"My father molested girls," he says. "He separated me and my brother."
The trailer also features a man who says that he's desperate to leave polygamy but doesn't want to leave without his family.
According to a press release, other plotlines for the new season will include "a mother hoping to find her daughters who have been hidden within an elite group in the FLDS community; and a young girl who desperately wants to rescue the love of her life in a dangerous mission that further exposes the dark and treacherous realities of polygamy."
The new season may also include one of the show's stars, Jessica Christensen, reuniting with her estranged mother briefly. At a court hearing in February, Jessica ran into her mother, who is still a member of the polygamous group that Jessica and her sisters escaped as teenagers. Their interaction happened while an A&E film crew was present and may have been filmed for the show.
The season will also feature regular stars Shannel DeRieux, Amanda Peterson and Andrea Brewer. 
The new season of 'Escaping Polygamy' premieres August 7 on A&E. Watch the season's first trailer below:
In two weeks Escaping Polygamy returns for a gripping third season on August 7th at 10 PM ET/PT. pic.twitter.com/sMJl8qQkWc

— A&E Network (@AETV) July 24, 2017
(Photo: A&E)