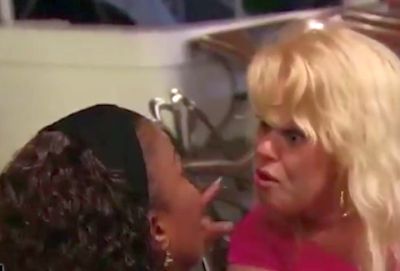 The cast of Little Women: Couples Retreat may be on vacation, but they certainly didn't take a break from their usual drama…or physical fighting!
TMZ broke the news that several of the cast members of the Little Women: LA spin-off got into a physical rumble after Lila Call got into the face of Tonya Banks during an argument and repeatedly dropped a racial slur.
From what can be gathered from the 43-second clip obtained by TMZ, Lila was discussing which members of the group were "foodies"… and then things got weird.
"Everyone has a monkey on their back," Lila says before getting right into Tonya's face to further emphasize her point. "Everybody's a monkey ass…including you!"
Tonya, who's African-American, seemed shocked that Lila threw the slur out.
"Everybody's a monkey ass!?" she asks. "I ain't no monkey ass!"
Lila insists that Tonya is, indeed, a "monkey ass" and Tonya advises her to shut her trap. Lila continues to call Tonya the name and other cast members start noticing what's happening.
"You are one step from me snatching your ass up out of that damn chair!" Tonya warns Lila, who continues to taunt her.
Tonya then takes the chair that Lila is sitting in and just dumps her out of it, causing Lila to fall to the floor with a thud! The other cast members are all standing around in disbelief.
On July 21, Lila tweeted that she was "totally assaulted" by Tonya during the chair-emptying incident.
According to TMZ, Lila suffered a "minor head injury" from the ordeal and had to be hospitalized in Puerto Rico.
This is not the first time that the ladies of 'Little Women: LA' have thrown down. In January 2016, a bar fight between Terra Jole and Christy Gibel (which was, of course, caught on camera and shown during an episode of the show) resulted in Christy claiming she had a head injury that required hospitalization.
Watch the crazy clip of the newest 'Little Women' fight below! The show premieres tonight on Lifetime.
(Photo: Lifetime)