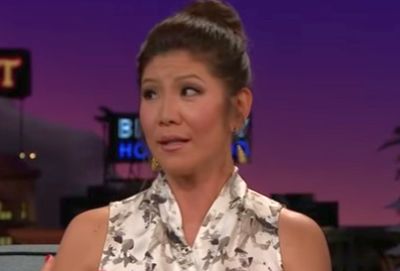 Big Brother host Julie Chen stopped by The Late Late Show with James Corden on Tuesday night to discuss the show's crazy current season and reveal that, after hosting the show for more than 17 years, she's kind tired of all things 'Big Brother.'
(Save yourself the trip to Wikipedia—'Big Brother' really did first premiere in the United States all the way back in 2000!)
Anyway, James asked Julie to predict who will win 'Big Brother 19' and she basically told him she sucks at picking winners.
"Everyone I have picked so far immediately gets evicted!" Julie said.
Julie claimed she entered a pool with other staff members on the first night and immediately lost her $5 because she chose Cameron to be the eventual winner. (He was evicted right after that.)
Her next pick, Dominique, also got the boot right after Julie chose her as the 'BB19' winner.
"The problem is you are going for people who are smart, which is not what people have historically voted for in 'Big Brother!'" James Corden joked.
While Julie may not be great at choosing 'Big Brother' winners, she is fantastic at choosing long-lasting gigs. She's been the host of 'Big Brother' for 17 years and while she enjoys the job, she said she's wondering if she will ever be able to retire from the show.
"I'm so tired…I enjoy it but…all shows, you watch when the ratings dip and that's usually when you say goodbye to your show," Julie said. "And I love doing it, and every summer my husband  [CBS President Les Moonves] is like, 'Your ratings are doing great!' and I'm like 'Yaaay?'
"I'm so tired! But you've got to strike while the iron's hot and I'm not gonna complain," she added.
For more in-depth 'Big Brother 19' coverage, head on over to Buddy TV!
Watch Julie's interview with James Corden below:
(Photo: CBS)