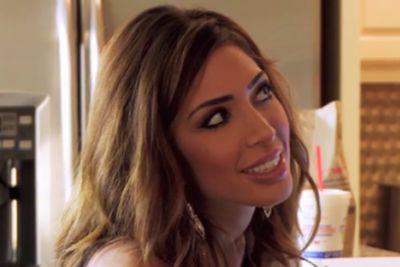 Farrah Abraham has, once again, provided us our "WTF News" of the day!
The Teen Mom OG star recently underwent cosmetic procedures to tighten her vagina (inside and out!) and the skin around her infamous "backdoor." Naturally, because it's Farrah, she allowed a camera crew and paparazzi photographer to capture the whole thing!
Radar Online posted the video of Farrah sprawled out on a table, smiling for the cameras while getting an internal vaginal rejuvenation procedure.
In case you're wondering, an internal vaginal rejuvenation procedure" is performed with a wand that is inserted and moved back and forth for four minutes to tighten the walls of the uterus," according to Radar. "It tightens everything inside your uterus and the walls of the uterus. It also makes the skin thick."
(Radar may have it a bit confused; it appears that the procedure rejuvenates a woman's vagina and labia, not their uterus, which is inside the body but anyway…)
The site's source claimed that the procedure is "beneficial for sex so you're not wide."
Farrah also did an external version of the procedure on the exterior parts of her baby shooter. That procedure is designed to make the exterior "look more youthful."
Farrah is only 26 years old, but apparently she felt that her gentleman greeter was looking decrepit. She's put it through the ringer over the years– what with her 2013 "backdoor" sex tape and giving birth to her daughter Sophia in 2009.
While she was there, Farrah also had her butt tightened using the Exilis procedure, which aims to get rid of cellulite and tighten up the skin.
Of course, this is hardly the first cosmetic procedure the 'Teen Mom OG' star has subjected herself to. Over the past seven years, Farrah has undergone at least three breast augmentation surgeries, a nose job, a chin implant surgery and another surgery later to remove the implant, lip injections (who could forget this horrorfest of a mishap from 2015?), facial fillers, and is rumored to have undergone some sort of cosmetic surgery to enhance the size of her butt.
You can watch the video of Farrah undergoing the procedure by clicking here. (It's semi-SFW.)
UPDATE: Farrah's sometimes-boyfriend, Simon Saran, has responded to the news that Farrah had her lady parts tightened.
"I don't blame her, I'm very big," he told Hollywood Life. "Wouldn't be fair to the next guy,"
(Photo: MTV)