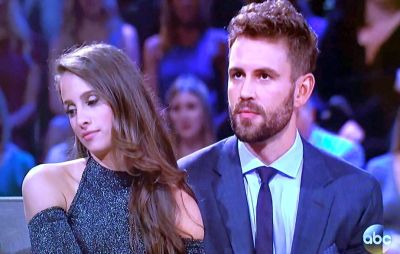 The Bachelor star Nick Viall appeared at the Hollywood Improv on Thursday night to discuss love and sex and, although his made-for-TV fiance Vanessa Grimaldi was front-row in the audience, it doesn't appear that ol' Nick is getting any of the above!
Nick was a panelist during the "Great Love Debate" show, in which celebrities discuss all things love in front of an audience that interacts with them. While Vanessa was happy to flash her giant engagement ring for the crowd, it appeared to The Ashley that the couple is not doing well.
Nick did mention Vanessa while on stage, but he never looked at her, even when he was talking about their relationship. He actually looked uncomfortable whenever he had to talk about Vanessa.
At one point during the show, it was discovered that former star of The Real World, Trishelle Cannatella, was in the audience. Trishelle, who is a newlywed herself, was asked if she had any advice for Nick and Vanessa, and let's just say things did not go well.
Trishelle spoke straight-out to Vanessa, telling her to find a man who can support her because "reality TV money doesn't last forever."
Vanessa did not respond, but immediately started whispering to her gal pals about how "classless" and "disgusting" Trishelle was.
After the show, Nick and Vanessa went their separate ways into the crowd, chatting with other 'Bachelor' people in attendance. They did not, however, interact at all with each other, except for when fans asked for a picture with the "happy couple."
Vanessa and Nick looked so unhappy together that The Ashley is giving this relationship a month….stay tuned!
(Photo: ABC)