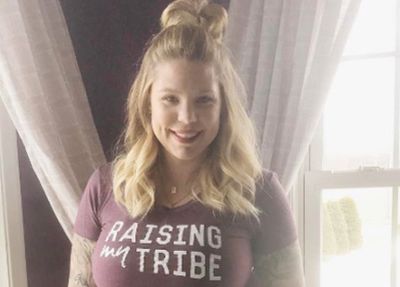 Kail Lowry is now a mom of three!
The Ashley can confirm that the Teen Mom 2 star gave birth to her third son on Saturday, August 5. Kail waited until the baby was born to find out its gender.
The baby weighed in at 7 pounds 15 ounces.
The father of the baby boy is Kail's ex-boyfriend, Chris Lopez.
The baby is reportedly still unnamed, but he will join half brothers Lincoln (whose dad is Kail's ex-husband Javi Marroquin) and Isaac (who was fathered by Kail's high school boyfriend Jo Rivera.
Jo has yet to publicly comment on the birth of Kail's third child, but Kail's ex-husband, Javi Marroquin, told Radar that he and Lincoln have not met the new baby yet.
"I'm glad everything went well for her," he told the site.
The Ashley broke the news back in February that Kail was expecting her third child.
"I know this isn't the ideal situation, but those close to me have been very supportive and understanding," Kail told The Ashley at the time.
"I truly thought I was done having kids and would finish school and focus on other things," she told The Ashley about the period before she got pregnant with Baby No. 3. "I started having [female] complications and was told my chances of ever carrying another baby to term were essentially cut in half.
"I realized that I did want another child eventually," Kail added. "I was told that as I get older, my chances of conceiving and carrying to term will be less and less. Long story short, the person I was with and I took the chance to see if I could get pregnant."
Chris has not commented publicly about his son's birth
(Photo: Instagram)