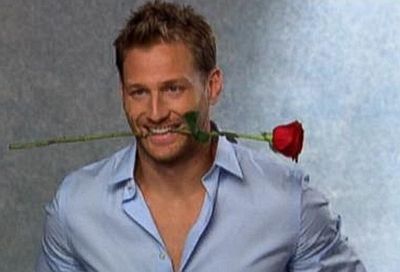 Es okay, guys! Former Bachelor star Juan Pablo Galavis has found himself a wife!
Us Weekly broke the news on Monday that Juan Pablo recently tied the knot in Miami with his girlfriend of about a year, Osmariel Villalobos. According to the magazine, Juan Pablo and Osmariel's wedding was hardly a made-for-TV affair.
"Only very close family and friends were invited [to the wedding]," Us Weekly reported. "They both wanted to keep the wedding very, very secret. All their friends and family knew they were going to tie the knot eventually, but it was a surprise to a lot of their family members!"
Judging from photos Osmariel posted on her Instagram account, she wore a long white gown, while Juan Pablo donned a gray suit with a mint green tie.
Juanny P has kept a very low profile since his season of 'The Bachelor' ended in 2014. After choosing contestant Nikki Ferrell at the end of the season, Juan Pablo didn't propose, and became downright hostile toward the show and its host, Chris Harrison, during the season's "After the Final Rose" episode.
Juan Pablo and Nikki continued to date for a while after the season ended, and even went on Couples Therapy to try to salvage their relationship, but they eventually split up in November 2014. Nikki got married to Tyler Van Loo in October 2016.
Of course, Juan Pablo had been dodging controversy for months by that time. Comments made by Juan Pablo during a January 2014 press event (right before his season premiered) in which he stated that gay people are "more pervert in a sense" made international news.
He later apologized for the comments.
This is Juan Pablo's first marriage, although he does have a daughter from a previous relationship with Venezuelan actress Carla Rodríguez.
(Photo: ABC)