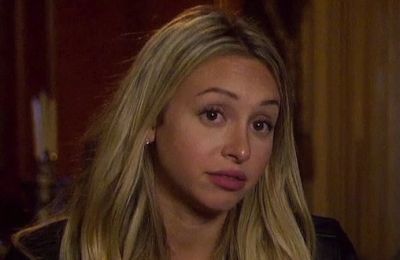 Corinne Olympios has finally come clean about what caused her to blackout while filming during the first week of production of Bachelor in Paradise Season 4.
As The Ashley previously reported, Corinne got extremely down and dirty in a 'Paradise' pool with co-star DeMario Jackson. Production was halted later that day after a producer filed a sexual misconduct complaint stating that Corinne may have been too drunk to consent to the sexual activity, Warner Bros. then launched an investigation to find out what happened. The investigation later found no sign of misconduct.
While filming the 'BIP' Reunion Special on Saturday, Corinne reportedly confessed that she mixed alcohol with prescription pills before getting down with DeMario.
"We're told she didn't elaborate on what kind of Rx, but she's adamant — ingesting the pills that day and mixing it with booze intensified her drunkenness, which she says led to her blacking out," TMZ reported.
It's no surprise that when the 'Paradisers' were brought back to the beach following the conclusion of the investigation, they were forced to submit to new rules, including new policies regarding all drugs– both prescription and, um, "other" types. According to TMZ, all 'Paradisers' were sent an email that clearly laid out the policies.
"Upon your arrival, your bags will be inventoried specifically for any over-the-counter and prescription drugs that are not prescribed to you," the email stated, according to TMZ. "Any prescription/illegal drugs will be confiscated… All drugs, over-the-counter and prescribed, must be submitted to the Nurse to keep and dispense accordingly for your stay in Mexico."
Cast members were also limited to having only two drinks an hour. (In previous seasons, the alcohol flowed freely.)
Although Corinne and DeMario did not rejoin the cast of Season 4 after the investigation concluded, both will appear on the 'Bachelor in Paradise' reunion. (DeMario has stated that he and Corinne did not interact at the taping because they were filmed separately.)
'Bachelor in Paradise' Season 4 premieres August 14 on ABC. Click here to watch a preview of the season.
(Photo: ABC)