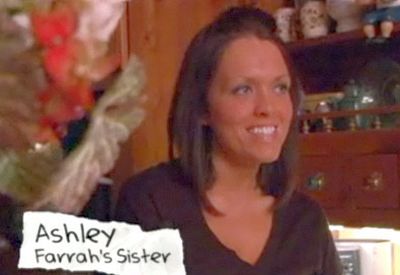 Teen Mom OG viewers have watched the drama between Farrah Abraham and her parents, Debra Danielsen and Michael Abraham, play out on various reality shows for years.
While Farrah's relationship with her parents has been well-documented in recent years, her relationship with her sister Ashley Danielsen has remained a mystery. Ashley, who appeared on many early episodes of 'Teen Mom,' has not been on-camera with her family for years, and is rarely ever mentioned by Farrah & Co.
In this exclusive interview with The Ashley, Farrah's sister Ashley discusses why she stopped filming 'Teen Mom,' whether or not she speaks to Farrah, Sophia and her parents, and why she didn't join her family on 'Marriage Boot Camp: Family Edition.'
Ashley and Farrah used to be fairly close, but that changed on St. Patrick's Day 2013 when Farrah was arrested for DUI after a night out with Ashley. Farrah later placed the blame on her sister for her arrest, and Farrah confirmed that things became strained for awhile between her and Ashley.
Four years later, Ashley says she has very little contact with Farrah.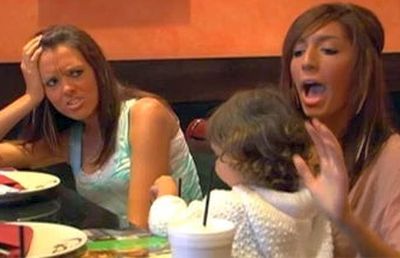 "It's very rare [that I speak to her]," Ashley told The Ashley. "I have a full schedule and I'm assuming she probably does too. Children, work, sports, appointments, school, etc… Life just gets in the way."
Ashley is now the mother of two young children. Her daughter Sylvia was born in 2012 and her son, Axl, was born in 2015. Unfortunately, Ashley and her kids don't have a relationship with Farrah's eight-year-old daughter, Sophia, whom Ashley was once quite close with.
"I don't get to spend any time with Sophia," Ashley said. "I think that's the part that makes me the saddest. Our family was very close growing up. We were with our cousins almost every day. I think it's sad that my kids won't have that relationship with Sophia."
Ashley says she does, however, speak to her mother Debra and her former stepfather Michael. (Michael is the biological father of Farrah but not Ashley.)
"I hear from Michael here and there," Ashley said. "Not very often but like everything else, I just think busy schedules get in the way."
Ashley has more of a relationship with her mother. In fact, she is helping Debra plan her wedding to Dr. David Mertz, which will take place in November.
Although she used to appear on 'Teen Mom' alongside Farrah and her family, Ashley says she has no desire to return to life in the spotlight.
"Once you're on a network like MTV, which is worldwide, your entire life changes," Ashley said. "You can't go into public without people recognizing you, strangers send you friend requests and messages, and you basically lose your privacy. I'm a very private person. I have a small circle of friends and family that I choose to spend my time and energy on, I don't want that interfered with."
Ashley's family did reach out to her with an offer to appear with them on 'Marriage Boot Camp: Family Edition' but Ashley said she turned the offer down.
"I value my privacy and the privacy of my children. I don't feel it's a productive use of my time," Ashley said of filming the reality show. "I really don't care to be on camera. Time is money and they don't pay me enough to be a part of that mess!"
In April, Farrah talked to WetPaint about being disappointed that Ashley did not want to participate in 'Marriage Boot Camp: Family Edition.'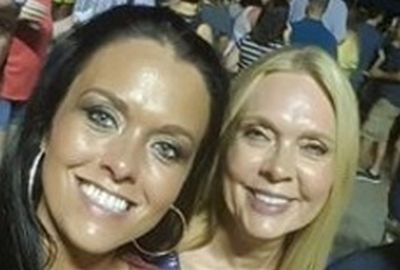 "I really wish that my sister could have equally gone to 'Family Boot Camp' with us," Farrah told WetPaint. "I think that would have been great, but I know she has her own limits and she's doing what's healthy from her. That's separating herself from my mom and I'm still in contact with my sister and things have kind of sorted for us."
Ashley's family is frequently in the news, but she says she doesn't really pay attention anymore.
"I have completely blocked it all out," she said of the on-camera Abraham family drama. "I know nothing unless someone else tells me."
Recently, Farrah and her mother began arguing publicly regarding whether or not Farrah was abused during her childhood, as Farrah has claimed. (Debra has denied those claims.) Ashley says no stories of abuse stick out in her mind.
"I don't remember anything like that," Ashley said, adding that she chose to live with her grandparents for much of her childhood. "My mom and Michael fought a lot. She grew up around that."
For now, Ashley says she's content living life away from the cameras. She remains very close with grandmother.
"I have been focusing on finishing my Bachelor's degree and spending time with my children," she said. "My oldest is starting kindergarten in the fall and does sports, so we have a full schedule. I'm just enjoying my quiet, peaceful, drama-free life."
(Photos: MTV, Instagram)