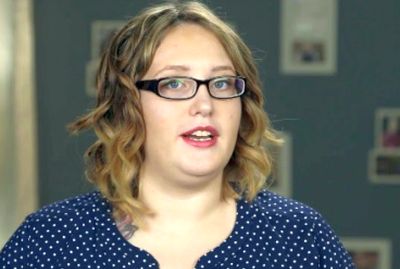 Mama June Shannon's body may be getting smaller, but her family is getting bigger!
The From Not to Hot star's reality show was just renewed for a second season by WEtv, but that's not the biggest news to come out of the Honey Boo Boo family this week. On Monday, June's 17-year-old daughter, Lauryn "Pumpkin" Shannon announced that she's expecting her first child.
"Hey guys! Guess what? I'm pregnant!" Lauryn announced on a video posted to WEtv's website on Monday.
Pumpkin said that, although she is excited about the baby, she's scared as well.
"I'm really excited to be a new mom, but there is some challenges that I am gonna have to face, " she says into the camera. "I'm really nervous having a baby because it does have to come out of my hoo-ha."
The teen mom-to-be said that she's not really enjoying her pregnancy so far.
"I really wish I could have this child right now," she said. "I hate being pregnant, but you know, you gotta do what you gotta do."
Although she doesn't know the sex of her baby yet, Pumpkin predicts it will be a girl.
"If I had to bet, because of all the girls in our family, I'm probably having a girl," she explained. "Could you imagine another f**king little me running around? You guys are gonna be f**ked!"
Awww….so beautifully put, Pumpkin.
After announcing her pregnancy, Pumpkin revealed on her Facebook page that the baby's father is Joshua Efird.
"So now that the news is out me and Josh are expecting a little one," Pumpkin wrote in the caption of a photo collage of her and Josh. "So happy to start this new adventure with him. I am so proud, Love you baby."
Joshua's Instagram page states that he and Pumpkin have been together since March 2015, and that they are currently engaged.
Pumpkin is the second of Mama June's kids to get pregnant as a teenager. During the first season of 'Here Comes Honey Boo Boo,' June's then-teen daughter Anna (aka "Chickadee") gave birth to her first child. (She has since married and welcomed another daughter.)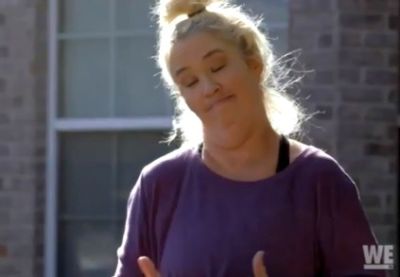 Fans will get to see Pumpkin's pregnancy play out during the second season of 'Mama June: From Not to Hot.' WEtv announced this week that 10 new episodes of the show will premiere in early 2018. In addition to covering Pumpkin's pregnancy, Season 2 will also follow Mama June in the aftermath of her massive weight loss.
In Season 2, June "tries to navigate life following a whirlwind year and losing hundreds of pounds," the network states.
Click here to watch Pumpkin's pregnancy announcement video.
(Photos: WEtv)