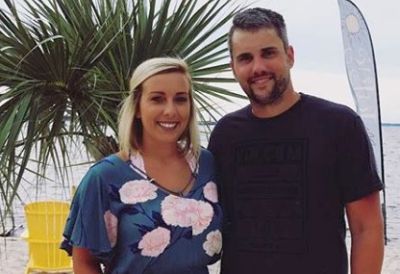 Mackenzie Standifer is speaking out about how her husband Ryan Edwards is doing, about a month after Teen Mom OG viewers watched him struggle on-camera with a drug addiction. Ryan went to rehab just days after marrying Mackenzie in May, and has kept a relatively low profile since the most-recent season of 'Teen Mom OG' ended last month.
In a series of Instagram comments, Mackenzie told fans that her husband is still sober.
Mackenzie posted a selfie to her Instagram, and one of her followers asked her if the solo pic meant that Mackenzie had split with Ryan. Mackenzie made it clear in her response to the comment that they are still together, and that she's supporting him through his hard times.
"Uhhh no," Mackenzie wrote in response to the person who asked her if she "finally" ditched Ryan. "When you get a flat tire do you ditch your car? No. When your house is dirty do you walk away? No. It's no different with the person you love. Just because you walk through rough waters does not mean you give up. It means you have enough self esteem to keep going, put your head up and fight harder."
Over the past few days, Mackenzie also revealed her future wedding and baby plans. Although viewers watched Mackenzie and Ryan get hitched in a spur-of-the-moment ceremony that only had Ryan's parents present as witnesses, Mackenzie revealed that there will be a second, bigger wedding that will include both her son, as well as Ryan's son Bentley.
"We have had a huge wedding planned and in the books with our whole family and boys since we got engaged," Mackenzie wrote.
(When they got engaged, Mackenzie had stated that she and Ryan planned to get married in November 2017, in the church where Ryan's parents, Jen and Larry Edwards, got hitched. It's unknown if that's still the plan.)
Mackenzie was much more clear when it came to revealing her and Ryan's plans to add to their family.
"Keep on counting until you're out of breath," Mackenzie told a follower on Instagram who asked when she and Ryan are going to announce a pregnancy. "…that's how long it'll be until we have one…like count to a million and one!"
After the wedding episode aired (which included footage of Ryan driving while under the influence of drugs), Mackenzie stated that she had been receiving death threats from 'Teen Mom OG' fans who felt she was wrong to allow Ryan to drive in the state he was in. (Mackenzie claimed that she was unaware that Ryan had a drug problem until right before he went to rehab.)
The next season of 'Teen Mom OG' is currently being filmed.
(Photo: Instagram)