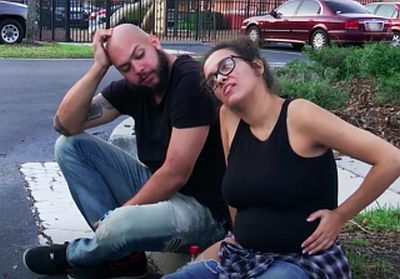 On the most recent episodes of Teen Mom 2, viewers have watched as Briana DeJesus tried to get her ex-boyfriend (and second baby-daddy) Luis to consider placing their baby for adoption. Of course, these episodes were filmed months ago, and Briana has since given birth to the baby, named her Stella Star and is parenting the little girl.
'Teen Mom 2' viewers have seen Luis talking about being involved in his daughter's life, saying he would "step up" and "be there for his kid." According to Briana's social media, however, that is not how things have played out since Baby Stella's birth.
The reality star recently lashed out at Luis via social media.
"Don't take photos of MY kids and put them on social media or send them in group chats to ur friends to act like u a dad…. u is a deadbeat my guy," Briana recently wrote on Snapchat. (Radar Online is reporting that Luis set Briana off by posting a photo of their daughter with the caption "my chicken nugget.")
On Tuesday, Briana revealed that she no longer communicates with Luis or Devoin Austin (who is the father of Briana's older daughter Nova).
"After what happened yesterday I cut all ties with both my baby daddies. F**k that," Briana tweeted without explaining what event she was referring to.
She confirmed on Twitter that Luis and his family are not involved in Stella's life, but she did not reveal "what happened yesterday."
On Monday's episode of 'Teen Mom 2,' Briana seems to be seriously considering placing her then-unborn daughter for adoption. On Tuesday, she revealed why she was so set on choosing adoption.
"I wanted what was best for Stella because I knew Luis wasn't going to be around," she tweeted. "There was way more 2 the story. And guess what, I was right."
Last week, Briana went after both of her baby daddies in another tweet.
"LMAO why men fold so quick when s**t gets real? I'll never understand. A damn shame I got more balls than both my baby daddies," she wrote.
In other (semi-frightening) news, Devoin recently took to Twitter to announce he wants to have another child.
"Gotta have me a kid with a regular minded person so I could experience the full s**t."
Gulp.
We will see more of the Briana/Luis and Briana/Devoin drama play out on this season of 'Teen Mom 2.'
To read our 'Teen Mom 2' recaps, click here!
(Photo: MTV)