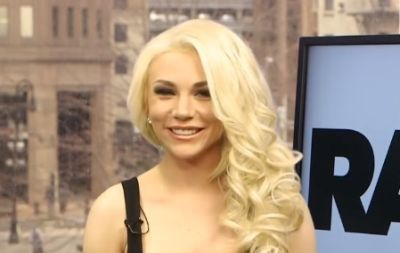 Reality star (and former teen bride) Courtney Stodden recently  sat down with Radar Online to talk about what she's up to now that she's left her old man husband, Doug Hutchison. Courtney was first thrust into the spotlight at the age of 16 when she married the 51-year-old actor.
In the six years since, Courtney has broken up and reconciled with Doug numerous times and starred on several reality shows both with Doug and with her mom, Krista Keller.
Earlier this year 22-year-old Courtney announced that she and Doug have split and are in the process of getting divorced.
She also revealed that, despite their split, she and Doug will be starring in a movie together. (There's no word yet on what kind of movie it will be. This is the girl who is famous for doing an ice cream-themed solo sex tape, after all.)
Here's what Courtney had to say on a variety of topics:
On dating for the first time in her adult life:  "I'm very single right now… I just started [dating]," she said. "I was just in a six-year long marriage so I'm not necessarily interested in completely jumping into something serious."
On where her relationship with Doug currently stands: Courtney said she is still in touch with Doug because they are business partners.
"We're working on a new movie that we are both going to star in together," she said. "Our relationship is really interesting to say the least because there are so many emotions. We are both heartbroken I guess and it's hard to be in each other's orbit because of that heartbreak. We've come so far together and for us to just choose to split and to still be collaborating on business, it makes for a kind of interesting dynamic."
(Is anyone else getting the vibe that she wants to work it out with Old Doug?)
On the legal status of the relationship: Courtney said she has not filed for divorce, but that she and Doug are legally separated right now.
"It's still really fresh, really new, emotions are really very sensitive," she said. "He's been there for me when nobody else was for six years. He's been my rock and ultimately my family."
On her future endeavors:  She said she sees herself focusing on her brand career- wise. And her brand is sexy, apparently. She tells us that she is starting a lingerie line and hopefully a lip gloss and perfume line. But don't count her out as the next billboard hit because she said she is also still working on music. (Perhaps we can expect another one of these gems this Christmas?)
Courtney said  she is still acting and looking into reality TV. She said she knows she's grown so much as an individual and a woman since she first came into the spotlight.
On eventually having kids:  "I love kids so much, but I think first thing first I need to discover who I am before inviting children into that situation."
Watch the full interview from Radar Online's Facebook page below:
(Photo: Facebook)