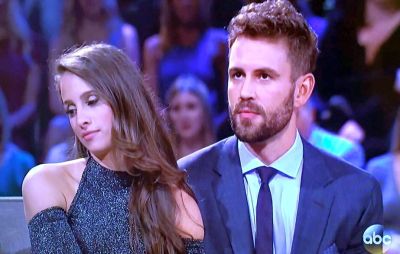 The Bachelor star Nick Viall has broken off his engagement to his made-for-TV-fiance, Vanessa Grimaldi.
The Ashley will give you a minute to get over the "shock" you are likely feeling right now…
The couple, who made it only five months after announcing their engagement at the end of Nick's season of 'The Bachelor,' said in a joint statement today that they are going their separate ways.
"It's with a great amount of heartbreak for the both us as we have decided to end our engagement," Nick and Vanessa told E! News. "We gave this relationship our all and we are saddened that we did not get the fairytale ending we hoped for. We will continue to be there for each other no matter what. This hasn't been an easy decision, however, as we part ways, we do so with lots of love and admiration for each other."
The Ashley is certainly not surprise by their split. Just a few weeks ago, The Ashley attended a panel discussion about love held at the Hollywood Improv. Nick was one of the "celebrity" panelists, and Vanessa was in the front row of the audience. Although they did their best to act like a happy couple, it was obvious to The Ashley (and probably everyone else in the room) that these two were just playing pretend.
The Ashley hadn't seen a more unhappy 'Bachelor' couple since ol' Juan Pablo tried to tell us that things with his pick, Nikki Ferrell, "es okay."
Nick didn't look at Vanessa during the show at all, and looked uncomfortable whenever he had to speak about her. At the end of the show, they mingled with other 'Bachelor' folk in the audience, but were only around each other long enough to take pictures with fans.
Anyway, E! News reports that the fact that they live in different countries was a main reason for the split.
"Nick and Vanessa have wanted to end this for a while now but was trying to figure out the right timing," the site reported. "They could never agree on where they wanted to live. Nick was never willing to move to Canada and that's where Vanessa wanted to be permanently."
Fans began to question whether Nick and Vanessa were in love (or even liked each other) almost immediately after their engagement was announced. Their lack of chemistry was obvious to fans who watched their "After the Final Rose" episode in March. (At that point Nick and Vanessa had been engaged for a few months, as the season was filmed in the fall of 2016.)
For those of you keeping track at home, that leaves only one 'Bachelor' who is still with his pick from the show: Sean Lowe. (He is still married to Catherine Giudici and they have a son together now.) Jason Mesnick is still married to his wife, Molly, whom he met on the show. However, Jason initially picked another woman, but then broke up with her to be with Molly, so it doesn't really count.
Anyway, anyone want to take bets on how long it will take Nick to find his way to yet another 'Bachelor' show?
#BachelorInParadiseSeason5
(Photo: ABC)