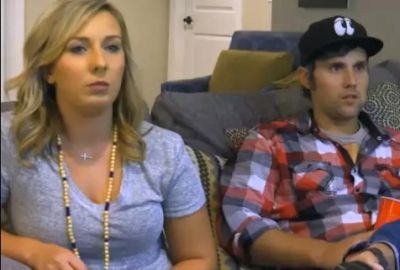 It's no secret that the three-month marriage of Teen Mom OG stars Ryan Edwards and Mackenzie Standifer is in trouble (what with Ryan getting caught allegedly soliciting sexy time via The Tinder and all), but from what The Ashley is hearing things are way worse between the newlyweds than we thought– and it's been causing absolute chaos for the MTV film crew and producers who are there to document it for 'Teen Mom OG!'
The Ashley's sources tell her that Mackenzie and Ryan are at odds at the moment, and Ryan has fled the house that they share, making it hard for the film crews to get in touch with him. (He did actually film yesterday for the show, though, from what The Ashley hears.)
The gossip is running through the film crew, cast and producers like white-hot lava right now.
"Ryan has blocked Mackenzie's number," one of the sources tells The Ashley. "This was going on for a while, even before the Tinder stuff broke. But he has not stayed at home for the past few days."
Another source tells The Ashley that Ryan has mentioned to more than one crew member that HE is planning to file for divorce. (Now, take that with a grain of salt because, as we know, these 'Teen Mom' knuckleheads make up and break up more than anyone else on the planet.)
However, the second source says that Ryan does not appear to be fooling around this time.
"He did not just say it in passing," the source tells The Ashley. "It was mentioned multiple times to multiple people on the crew."
Annnnd…that's not all! The first source tells The Ashley that Mackenzie has made it incredibly hard for the 'Teen Mom OG' film crew and producers over the past few weeks.
"Mackenzie requested that MTV pay for her and her friends to go on vacation to 'get away from it all' and film, of course," the source said. "MTV considered it, but yesterday they decided against it and said they will not pay for it."
Money has been a big issue, both sources confirm to The Ashley.
"The crew has been filming Mackenzie over the last week or so, give or take," one says. "She has not made it easy and at times she's refused to talk about the Ryan drama on-camera, but has stated that she will talk if they pay her more."
(The Ashley has no clue if the production staff has given in to her payment demands.)
Anyway, The Ashley hears that Ryan's parents, Jen and Larry Edwards, have been trying to support Ryan through all this drama; however they are remaining stern that he maintains his sobriety.
"They told Ryan he could stay at their house while he and Mackenzie were having issues, but they said if he was coming for other reasons, they aren't having it," the source tells The Ashley.
It's unknown at this point how much of this will actually make it to our television screens, but The Ashley can confirm that the MTV film crews are there capturing the drama!
UPDATE! Mackenzie denied that Ryan has moved out when she was asked by Radar Online for a comment. She also stated that, "those are not our plans" when asked if a divorce filing is coming. However, Ryan refused to comment on any of it.
Stay tuned…
(Photo: MTV)