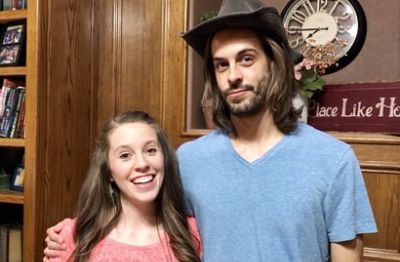 UPDATE! As of Wednesday, Pure Charity has shut down Derick's fundraising page, stating that it violated the site's Terms of Use for Registered User Conduct!
Derick has yet to comment on the shutdown.
Just when you thought Derick and Jill Dillard were done asking for money, the Counting On stars are once again coming to their fans with their hands out!
Less than a month after announcing that he and Jill were no longer accepting donations to their Dillard Family Ministries charity, Derick has once again come to the Duggar Family's fans to ask for cold-hard cash.
Last week, Derick posted on a site called purecharity.com (which seems to be a sort-of GoFundMe for charities). On the page, he revealed why he is requesting your hard-earned dollars.
"BIG NEWS! For the next year, I will be serving through a program at my home church, called the Cross Church School of Ministry! I am so excited about this incredible opportunity for further ministry development, and I would like to invite you to share in this excitement with me," Derick wrote.
And, of course, the best way for fans to "share in this excitement" with Derick is to fork over their money!
Derick stated that he needs the money for "various mission opportunities" that include "trips for gospel advancement"…whatever that means.
"I started a fundraiser on Pure Charity to raise the funding I need for various mission's opportunities I will have throughout the year," he wrote. "I have a donations goal of $6,500. This will enable me to fulfill my specific calling to ministry this year, including trips for Gospel-advancement and humanitarian work in Northwest Arkansas, North America, and abroad."
Derick went on to explain a little bit more about the church and his reasons for wanting your money.
"The Cross Church School of Ministry is a one-year, ministry, residency experience that I believe will be a key asset in not only my vocational ministry, but also in my personal development," he wrote. "Every donation is important and will enable me to be present and help others in need. Would you kindly consider making a donation? Also, I would appreciate your willingness to share this with others who may want to partner with me," he begged.
"Thank you so much for being a part of my life and helping me be a small part of something so big, that transcends time and space, the advancement of the good news of Jesus Christ!"
As The Ashley previously reported, fans expressed anger over how Derick and Jill spent their donations for their last ministry, so it's no surprise that, at press time, Derick was lacking in donations this time around. To date, he has only raised a measly $125 of his $6,500 goal.
Fans were apparently not so keen on giving Derick money so he could further his "personal development." Many were quick to point out that Derick and Jill (and their family) make a large salary from appearing on 'Counting On'.
"Truly needed? No disrespect, but why can't you use your earnings from TLC? As one person said, Jesus never asked for donations for ministry," one person responded to Derick's request for donations on Twitter.
"You made a ton of $ off TLC," another wrote. "Use your money instead of bilking your poor fans. If Jim Bob can afford 3 planes, he can fund your ed."
"If you had a true calling, you would be thrilled to use your own money for this. Have some shame. You have $ and don't need charity. #greed," another person wrote to Derick.
Surely we will see this all play out on the new episodes of 'Counting On' which will premiere on TLC in September.
(Photo: TLC)