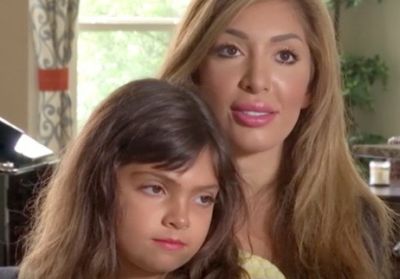 While many eight-year-olds were in bed on Sunday night, Farrah Abraham's daughter, Sophia, was busy walking the red carpet of the MTV VMAs with her mom.
When a reporter from In Touch Weekly asked Farrah how Sophia was able to attend the event, being that it was a school night, Farrah revealed that she's made changes to Sophia's schooling to enable the little girl to attend important things like fashion events and awards shows… as you do.
Farrah told the magazine that Sophia is now being home-schooled.
"She's doing homeschooling, so she gets to come to more events and that's awesome," Farrah said of Sophia.
During several episodes of 'Teen Mom OG,' Farrah revealed that Sophia was having difficulties at her old school because the other girls were "jealous of her." The school's administrators also told Farrah that her allowing the little girl to attend classes with a full face of makeup on was causing her to be bullied.
Farrah stated that her solution to solve this problem was to put Sophia in virtual school. She says the change has allowed Sophia to "be the better her."
"I decided to do that because, at school, I didn't really want to make it about the bullying, dating, those things," Farrah said. "It's focusing more on her studies, traveling the world if she wants to do that while she is going to school. She's doing more runway so she'll be at New York Fashion Week. She has a lot going on and this just helps her be the better her."
And, of course, the brainiac that is Farrah will be assisting the little girl in getting her learn on.
"We do virtual schooling and with the help of me or a tutor, it's easier for her to get through it. She can be home. She can be anywhere! She's virtual!" Farrah said.
(We all know from reading anything that Farrah has ever written that she is a master of the English language and the literary genius of our generation.)
Now that she has that pesky "attending school" task out of the way, Sophia is able to focus on her modeling career, according to Farrah. As you'll remember, fans criticized Farrah over Sophia's previous modeling jobs, after Farrah posted photos of the little girl posing suggestively in a bikini.
With Farrah behind the wheel of Sophia's education, she'll have the little girl fluent in "Farrah Speak" in no time at all!
UPDATE!check them out here Many have asked how Farrah can homeschool Sophia without having any credentials to do so. The answer is that the rules and regulations for homeschooling vary by state. You can .
(Photo: MTV)