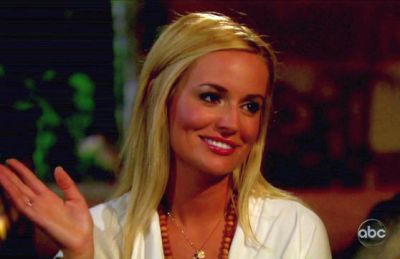 Emily Maynard is certainly getting a lot of use out of her maternity clothes!
The former star of The Bachelorette announced today that she is currently very pregnant with her fourth child. Emily, who married Tyler Johnson several years after starring on the ABC reality show, is about to take on the daunting task of having three babies under three years old…plus a pre-teen!
She is already the mother of 12-year-old daughter Ricki (who was fathered by Emily's late fiance, Ricky Hendrick), two-year-old son Jennings and 11-month-old son Gibson.
She officially "announced" the fourth pregnancy by posting a photo of herself looking very pregnant to her social media accounts.
"Way too many tacos at lunch. —Seriously though, as scared as I am to have 3 under 3, I'm so grateful God picked me to be the mommy to my kids and we can't wait for number 4 to get here!" she wrote.
"This pregnancy has been filled with lots of hot wings, ranch dressing, an emergency appendix surgery at 6 months, and swollen ankles all day every day but I wouldn't change it for the world," she added.
Emily wrote that she is waiting until the baby's birth to find out if it's a boy or a girl, and that she's due in just a few weeks.
As the soon-to-be mother of four children, Emily has the most kids of any former 'Bachelorette.' Trista Rehn, Jen Schefft, DeAnna Pappas and Ashley Hebert each have two children, while Jillian Harris, Ali Fedotowsky and Desiree Hartsock have one kid each.
If you're wondering whatever happened to Jef Holm, the guy Emily chose to be her fiance during her season of 'The Bachelorette,' he was last known to be dating Bachelor in Paradise star Kristina Schulman.
See Emily's cute pregnancy announcement below:
(Photos: ABC, Instagram)