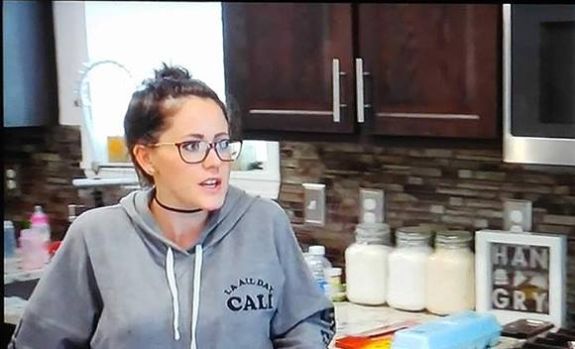 Note from The Ashley: Yes this is a week overdue but…hey, The Ashley has been focusing on growing her Mary Kay business and cooking canned ravioli. 
Well gang, it's been a few weeks since we checked in with the gals of Teen Mom 2. It's always exciting to see who's gone to court (answer: everyone), who's bought a new expensive car (answer: everyone) and who's one mini-crisis away from screaming "MONKEY!" and barreling their expensive car through the side of their ex's house. (answer: everyone except maybe Chelsea)
This episode starts off in South Dakota, where Chelsea is preparing to mark baby Watson's latest month milestone via Instagram photo. Cole notes that the photo would be even more fun if there were two more Deboer babies lying on the blanket with Watson. Chelsea fetches the set of dead animal horns to mark the month and puts them next to Watson.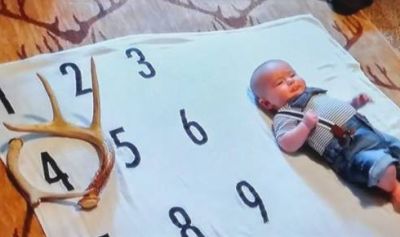 Chelsea and Cole discuss how seeing their son lying next to animal bones is making them feel strange. Since they aren't seeing molecules and their legs aren't all sweaty and restless, they realize that they have The Baby Fever. Cole is hoping that Chelsea will pop out a couple more kids in the next few years, Jenelle-style. Chelsea declares she is ready to add to her litter at any time.
The reindeer of South Dakota better hold on to their horns! Chelsea's feelin' fertile!
Speaking of those that are fertile, we next check in with Jenelle. She and Lurch are now living large on "The Land," and Jenelle is wishing that her oldest son, Jack…er, Jace, could be there to build forts and whatnot with Lurch. (And, of course, take "happy family" photos for Instagram with Jenelle, in between all the door-punching, yelling and backyard screaming.)
Jenelle declares that if Barbara would just "move to Florida" Jace could take his proper place under the pile of illegitimate children on "The Land" and everything would be great.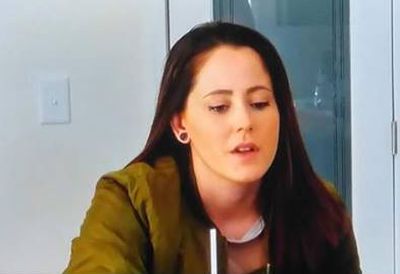 Wait…is she trying to set Barb up into some sort of "Golden Girls" situation? Because, if so, The Ashley is retiring right now and HIGH! HIGH-tailing it down to Miami to move in with Babs, so we can eat cheesecakes, and sit around the kitchen table chatting about her "Bitch of a Daughta!"
If only…
Jenelle reveals that she and Barb will be going to court soon to battle for Jace, and Jenelle hopes that she will at least get a visitation schedule set in stone. Obviously, it will have to revolve around Jenelle's vacation schedule, but it's a start…
I mean, those margaritas aren't going to drink themselves in St. Thomas, guys!
"My number one choice is gonna be, I get full custody," Jenelle says as Lurch grunts in agreement. "Ultimately, it's what the judge decides."
Wait, what? You mean the custody of Jace won't determined by Babs and Jenelle going head-to-head in a Ke$ha karaoke showdown in which America gets to vote for a winner? WTF?
Jenelle and Lurch aren't worried that a judge will choose Babs over them to care for Jace. After all, they are living on The Land now, so there's more room for Jace to roam and run than what he has at Barb's House of Misplaced Grandchildren. (Also, why are they talking about Jace like he's a golden retriever?)
"I'm trying so hard to save this before Jace has a f**ked up childhood," Jenelle says.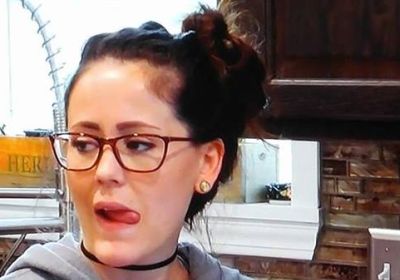 Um…then you better jump into your time machine, Jenelle, and set it for 2009 so you can put a Trojan Extra Slim on ol' Andrew! That's basically the only way to save this poor kid from the inevitable 20+ years of therapy he'll need. (Hell, even I need therapy just from watching the trainwreck that has been poor Jace's life over the past eight years.)
Next, we boot-scoot on down to the holler to see what Leah has been up to. Ali is home from the hospital and is recovering, but she is still having breathing trouble and will have to go to her doctor in Columbus.
At Corey's place, Miranda is getting all gussied up. (Maybe Corey's taking her down to the Sizzler or something?) She's painting her nails and asks Corey (the man who has been wearing the same camo hat and lime green T-shirt since George Bush left the presidency) for his opinion on the color.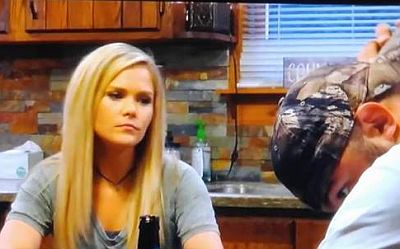 Soon, the conversation turns to more serious subjects, like Ali's trip to the ER. Corey says that Ali's X-rays didn't reveal anything but he's still very worried about her getting worse in the future.
Next we head up to Delaware, where Kail is angry with Javi. (So…basically it's business as usual.) Lincoln is about to start soccer, so Kail realizes that having a protective order against Javi will mean that he won't be able to attend Lincoln's games.
To prevent poor Javi from having to sit in a tree, 100 yards away and watch the kid via binoculars, Kail has decided to drop the PFA she has against him. She realizes that Javi longer poses a threat to her life (or something) so she calls him to let him know that she's dropping the protective order.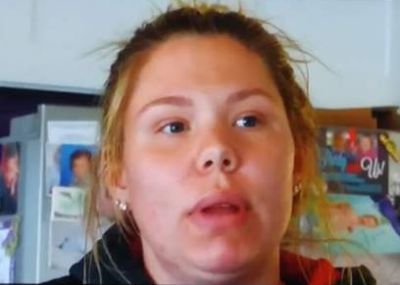 Javi is relieved and they vow to try to be civil to each other at the boys' sporting events. (So…I guess we won't be seeing Kail picking up Javi and throwing him through the window of the snack bar any time soon…sigh.)
Finally, we go to Florida to check in with Briana and her assortment of brain-dead and broke baby-daddies. Her newest baby daddy, Luis will be making a rare appearance because MTV will be filming Briana's next doctor's appointment.
(Let's face it: Luis would have to sell so much weed just to equal the amount he makes for about five minutes of arguing with Briana on camera. It's just a good business decision to crawl out of the woodwork when MTV comes to town!)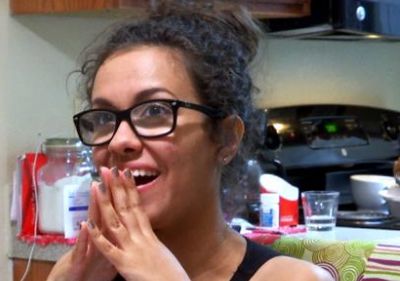 Briana says that Luis has been looking for an apartment to move into that's close to Briana's place. She's thrilled that he will be close to Baby Stella.
The next day, ol' Luis graces us with his presence. He comes to the appointment and sits there with a bored look on his face. While Briana's feet are still up in the stirrups (and she can't kick him), Luis breaks the news that he's not planning to move anywhere near her. Briana is devastated that Luis will be living so far away from her and their daughter.
It's cute because Briana still thinks this waste of space is actually going to come around for his kid. Bless her heart. Luis could literally be living in the dumpster behind her apartment complex and he wouldn't go up and help with this kid. Anyone could see that!
Producer Alexis (who, by the way, looks like she just jumped off the screen of a Myspace profile from 2007) is quick to pounce on Briana after Luis leaves. She reminds Briana that Luis had said that he was going to move closer to her so he could help with the baby. That does it; soon Briana is bawling outside the clinic, thinking about what a mess her life is.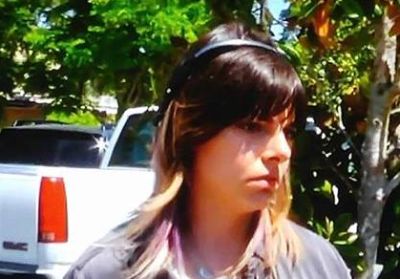 Something tells me this won't be the last time Briana will find herself bawling outside of a clinic, thinking about what a mess her life is.
"I don't wanna do this by myself!" she wails.
I mean, when you bone a guy you just met in the champagne room of "da club" and you get knocked up, you just expect more from him, ya know?
Back in South Dakota, Chelsea is telling her friend Brittnee that she and Cole have The Baby Fever.
"I just want so many Baby Coleys!" Chelsea squeals.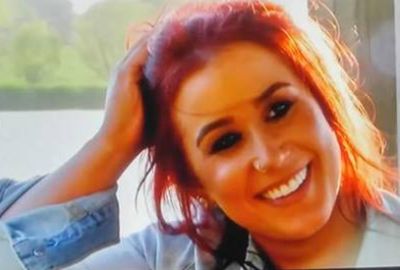 It sounds like those flannel sheets on Chelsea and Cole's bed are about to get a workout!
Later, Cole and Chelsea are trying to figure out where they will have their (second) wedding reception. Chelsea vows to keep her loins a-quiverin' for Cole's love until after they have the reception, so that she is not pregnant (again) at their wedding.
Meanwhile, Babs is chit-chatting with Producer Kristen about the upcoming court date she has with Jenelle. (It must be such a relief for MTV to finally be able to use producers to have these conversations with the cast, instead of scrounging to find some random "friend" –or assorted street youths, in Jenelle's case– to film with.)
Barb says she's feeling pretty good about the court date, but Jace is very upset about all the drama. Babs says that Jace is now in therapy, and that he recently cried and begged Barb not to send him to "The Land" to clock hours with Mommy Dearest and Lurch.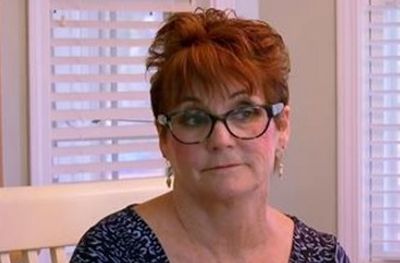 Babs says Jace doesn't "wanna go ova" to Jenelle's because Lurch and The Spawn of Lurch are mean to him when he's there.
Producer Kristen just sits there, wondering if she's a "mandatory reporter."
In Delaware, it's the first day of soccer for the boys. Javi arrives to see the boys play and immediately Kail and Javi start bickering. Lincoln starts screaming that he doesn't want to play soccer. He's clinging to Javi and refusing to run with his team, but eventually he's kicking the ball around and having fun. Kail is relieved that Javi was able to help Lincoln, and was not forced to yell instructions to his son from the parking lot.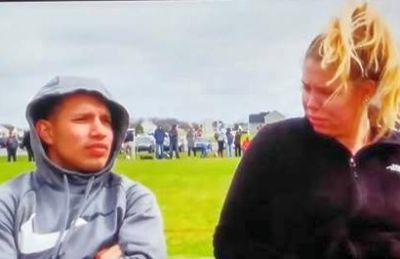 Next it's time for Isaac's game, and Javi stays to watch. He sits in a kiddie chair and Kail accuses him of being too close to her. Javi's like, "Pssh, you wish!"
There's a mild amount of flirting going on between Kail and Javi. (It's like almost Corey and Leah level here, guys.) It is starting to feel nice…until Javi remembers that Kail is pregnant with some other dude's child. He asks her how she's doing and asks when she is due, and Kail snaps back to her normal self and tells Javi she's not telling him.
"You always have to make it weird!" Kail says.
Still, though, the flirting continues. Will Javi's Yeezys be under Kail's bed tonight?!
Meanwhile, Briana is talking to her friend "Shirley" on the phone. (I'm still convinced that Shirley is in the witness protection program and that's not her real name because no one under the age of 80 is named Shirley.)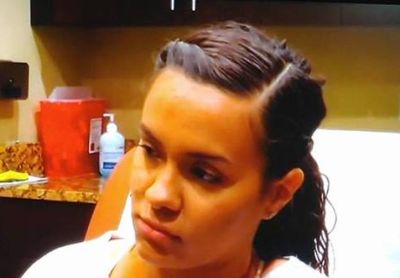 She tells "Shirley" that Luis has once again failed to follow through on what he said. "Shirley" seemed to know this was coming and even predicts that Luis will eventually go MIA and tell Briana it's because he's "spending mad money on gas" to see the baby. She predicts that he will then tell Briana, "Yo these tolls be killin' me."
Do people really say things like this? I thought people only said crap like this in Eminem songs and stuff.
It is, of course, a tale as old as time for Briana. After all, her first baby daddy Devoin gave her the same excuses when she tried to get him to come see Nova.
In West Virginia, Leah is dropping off Addie at Jeremy's mother's house. Leah demands a kiss from Addie but Addie refuses to kiss her.
"Just like her daddy!" Leah jokes.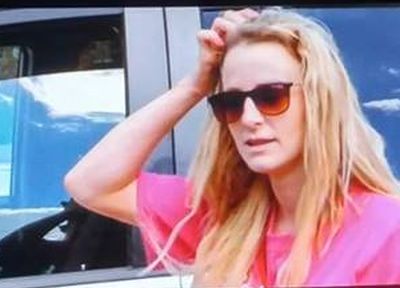 Um….awkward…
Once Addie has been deposited, it's time for Leah to take Ali to her doctor's appointment in Columbus.
In North Carolina, things have gone from bad to worse between Jenelle and Babs. Jenelle claims that Barb refused to allow Jace to come to "The Land" the night before so Jenelle and Lurch decided to play Nancy Drew and track her down! They scurried down to a restaurant, where they found Babs dining with a friend, Jace and one of her other assorted grandkids.
Since Jenelle couldn't call the camera crew in time (and/or the paparazzi) Lurch used his big oafy paws to record the whole thing on his phone.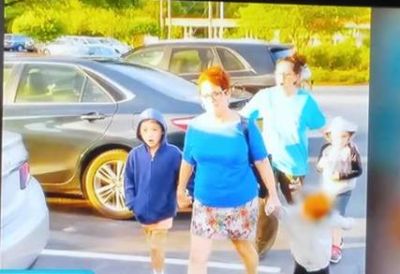 We see Babs walking out with her crew, and yelling at David for "takin' pictas" of her. Jace looks mildly terrified because he seems to know this is going to end in someone getting strangled in a bed sheet and going to jail.
We hear Jenelle yelling that Babs was drinking while having three kids in the car, and Babs screams that she didn't have anything to drink. Jenelle seems upset that her brilliant sting operation isn't working, and starts screaming that she has "pictures" of Babs. (We can assume that they are pictures of Barb drinking, but The Ashley is hoping that they are actually just a series of glamour shots.)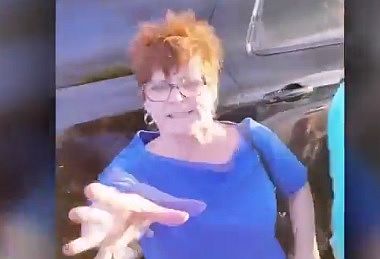 Babs is getting increasingly angry and charges at Lurch to get him to stop filming her. Her sassy orange hair is flapping in the breeze as she attempts to remove the camera from David's paw but then spins it around to get the kids into the car.
Jenelle proclaims that she "just came to say hello to Jace" and had no intention of trying to frame her mother for drunk driving. Barb pulls out her Jitterbug flip phone and calls the cops and starts telling Jenelle that she only had one sip (ONE SIP!) of wine at dinner. Barb says that ol' Lurch is a pro at the drinking and driving, but Jenelle denies that.
"I tried my best!" Jenelle declares as she hugs Jace goodbye.
"I love you Jace!" she adds dramatically, in hopes that the kid will think he's minutes from an on-the-road death.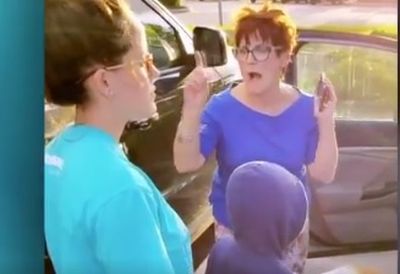 Lurch tells Babs that she should just hand over Jace to them, and Barb says she will never hand Jace to them, especially not to Lurch. She corrals the assortment of kids into the car and both claim that Jace rats on the other party when they are with him.
I think that's healthy.
Lurch is screaming "I LOVE YOU JACE!" and poor Jace is probably under the seat with his bike helmet on, bracing for his impending death.
Later, Producer Kristin is talking to Jenelle about her "Jace Rescue Mission." Jenelle explains that when Babs shot down her request to see Jace that day, Babs mentioned that it was Cinco de Mayo and that she had plans with her friends. Now, as we all know, Jenelle does NOT approve of a party lifestyle of any kind, so that kind of talk about a "friend fiesta" worried her. That's why she had to track down Babs in order to save Jace from impeding doom!
Jenelle explains that they found Babs at a Mexican restaurant, and that Lurch was casing the joint, snapping photos of Babs having a glass of wine with dinner.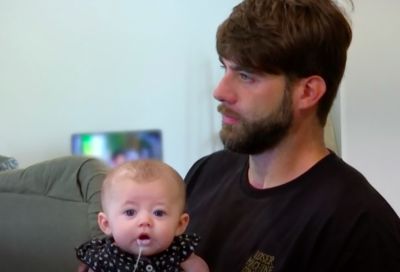 "I'm going in there!" Jenelle says she yelled once she saw Lurch's photo evidence.
Jenelle says that it wasn't right for Barb to be drinking in front of the kids. I mean, doing drugs? Sure, why not, but drinking the Devil's water on the side of your enchilada combo? Hell no!
Producer Kristen looks confused (and also like she wants to start looking for a new job). Jenelle explains that she and Lurch followed Barb to her home, and that–CAN YOU BELIEVE IT?–Barb wouldn't open her door and let these two angry knuckleheads into her house!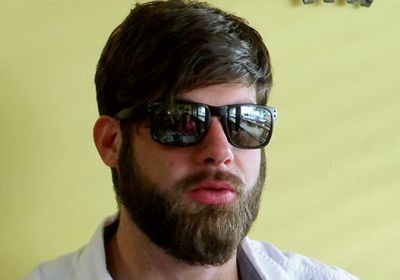 Lurch apparently started prowling around the house and peeping into windows and he saw Barbara's car in the garage. That was enough for Jenelle to call the police, and when the poor cops came out, Jenelle claimed that Barb may be "passed out" from all her wine, with wayward grandkids running amok through the house.
So a few of North Carolina's finest had to go into Barb's house and listen to her and Jenelle yell about each other.
Babs apparently told the cops she didn't want her "Nancy Drew of a Daughta" on her property.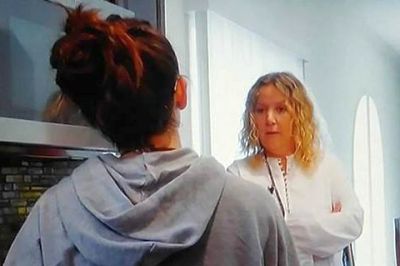 "After not answering the door for two hours!" Jenelle adds. "I banged on the door for two hours!"
So…lemme get this straight. You and your back-from-the-dead boyfriend stalked this woman, tried to frame her for drunk driving, then headed over to her house where you rang her doorbell and banged on her door for TWO HOURS before calling the cops on her for not letting you in so you can yell at her?! And you want sympathy from everyone?
W…T…F…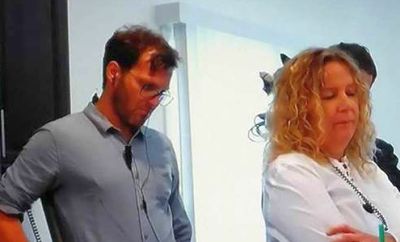 Kristen pretends to be on Jenelle's side while the rest of the crew just stands there silently, with their heads hanging down. They are obviously feeling bad about contributing to this madness.
Barb is now refusing to answer Jenelle's calls, and Jenelle is convinced that Barb's attorney is probably "really scared." He didn't realize that Nancy Drew and her trusty troll-like sidekick Lurch were on this custody case!
Both Jenelle and Lurch are positive that their efforts will help them win the court case.
Finally we head to Florida one last time to see Briana talk to Luis. She leaves Nova with Brittany to go sit out in Luis' car (which is, to be fair, probably also his house right now). Briana tells Luis that he shouldn't move so far away, because it's a waste of gas and toll money.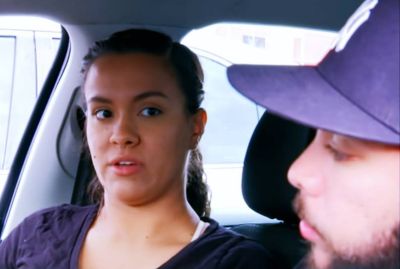 In fact, he isn't saving money at all, Briana says, by renting an apartment on the cheap side of town, because he will be spending so much on tolls and gas to come see his daughter!
There's an easy solution for Luis, though: he just won't come at all then! Problem solved (and toll money saved!)
Luis is still trying to entertain Briana by acting like he's going to be around when the baby is born. Luis promises that he will do "whatever he has to" to support the baby, even if he has to get a second job. Well bro, in order to get a second job, you'd need to get a first job. Just sayin'…
Briana tells Luis that she doesn't' want the new baby to grow up in a bad situation like Nova is. She's still trying to pitch the adoption idea to Luis– stating that adoptive parents could give the baby vacations and singing lessons and whatnot. Luis is still against the adoption and is vowing to "better himself" for his child.
Good one, Luis!
That's all for this episode! Until next time!
(Photos: MTV)