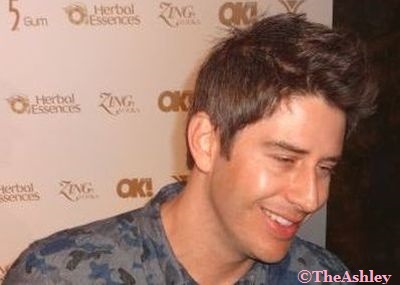 After weeks of posting teasing tweets that gave fans of The Bachelor hints as to who would be the show's next star (and who would not), producer Mike Fleiss and the rest of the 'Bachelor' higher-ups have finally come to a decision on who will be handing out roses next season.
After much deliberation, they have decided on…Arie Luyendyk Jr.!
In case you have no clue who the hell this person is, allow The Ashley to refresh your memory. Arie was the runner-up on Emily Maynard's season of The Bachelorette back in 2012. He had been vying hard for the job several years ago, and was even promised the title (according to him), but the producers made a last minute switch and went with farmer Chris Soules instead.
Back in 2014, Arie told The Ashley that he thought being the 'Bachelor' would be "an amazing experience."
"I think it would be fun [to do 'The Bachelor'], if I could get enough time off," Arie told The Ashley during a red carpet interview. "I got lucky when I did 'The Bachelorette' because it was a period that I was able to take time off."
Mike Fleiss had promised 'Bachelor' fans would be "shocked" when they found out who had been chosen, and they definitely were, judging by the reaction on Twitter after Arie was announced as the next rose-giver. Most fans (and even 'Bachelor guru Reality Steve) expected Peter Kraus to be named the next 'Bachelor.'
To help refresh your memory, The Ashley has put together a list of 10 fun facts about Arie.
1. He's a professional race car driver and so is his father.
Arie has done well in racing world– finishing in second, third and fourth place over the years in the Indy Light Series. His father, Arie Luyendyk Sr., is by far more well-known in the racing world, as he is a two-time winner of the Indy 500.
2. Arie was seriously injured in a crash several years ago.
Back in 2014, Arie was competing in an off-road truck race when he flipped his vehicle multiple times. Arie was rushed to the hospital, where he was treated for a broken collarbone. You can watch footage of his wicked crash (if you're into that sort of thing) by clicking here.
3. He once dated Courtney Robertson ('Bachelor' Ben Flajnik's ex-fiance), among other former 'Bachelor' contestants.
Arie has dipped into the 'Bachelor Nation' pool a bit over the years. In 2013, he dated Courtney Robertson, following her split with her made-for-TV fiance Ben Flajnik. (Courtney later claimed in her memoir that Arie was seeing another girl the entire time she was dating him.) In 2014, Arie dated Selma Alameri, who got the boot from Sean Lowe's season of 'The Bachelor.'
4. Arie was not "Made in America."
Born in the Netherlands, Arie will be the fourth 'Bachelor' who was not born in the United States. (In case you're wondering who the other "out-of-towners" are, they are as follows: Season 5's Jesse Palmer was born in Canada, Season 9's Prince Lorenzo Borghese was born in Italy, and Season 12's Matt Grant was born in England. Season 17's Juan Pablo Galavis was actually born in America but grew up in Venezuela.)
5. His ex-girlfriends have been very vocal about him wanting fame.
Since Arie was announced as 'The Bachelor' on Thursday morning, his ex-girlfriends are already starting to come out of the woodwork, with tales of Arie not going on the show for–you guessed it!– "the right reasons." (Check out Reality Steve's Twitter feed to see the most-recent posts.) Back in 2012, one of Arie's exes came forward to warn Emily Maynard that Arie was not husband material.
"He's in it for the fame," Arie's ex told Star magazine. "Arie has dated hundreds of women and travels all over the world. Clearly, he doesn't need help finding a date or someone to fall in love with.
Let's hope he's changed in the five years since he appeared on the show.
6. He taught fellow 'Bachelor' Sean Lowe how to kiss.
Arie is no doubt one of the most passionate kissers ever to appear on 'The Bachelor.' Back when Sean was chosen for the 'Bachelor' role, he lacked the, um, lip locking skills he needed to woo the ladies, so his pal Arie stepped in to give him some tips. Check out the video below to see Arie in action!
7. Arie was very bitter when Farmer Chris got his 'Bachelor' job a few years ago.
Arie was super salty after 'Bachelor' producers promised him the role of the next 'Bachelor' but then gave the job to Chris Soules. In August 2014, he tweeted, "I'm not the Bachelor, have fun on the farm people."
8. He once claimed that a Cracker Barrel waitress made him realize he needed religion…or something.
In 2014, during the height of Arie's campaigning to be the next 'Bachelor,' he wrote a guest post on Sean Lowe's blog about an enlightening encounter he had at a Cracker Barrel restaurant.
9. Arie is tired of living the single life.
He appeared on 'Good Morning America' today after it was announced that he was the next 'Bachelor,' and stated that he is ready to start a family.
"I'll be 36 in a few weeks, so, for me, it's time," he said. "…All my friends around me have kids and have grown up, so, for me, I feel like I'm the last one of my friends to really take that step."
10. He has a "real" job.
Unlike many of the characters that appear on these shows, Arie has an actual job (in addition to his racing career). He's currently working as a real estate agent in Scottsdale, Arizona.
Many fans are excited to watch Arie look for love, given that, at almost 36 years old, he may be actually looking for a serious relationship.
"Am I the only one excited for #thebachelor ? Maybe we will be rid of the 23 year olds who claim this is their 'last chance at love,'" one person tweeted.
Not everyone is so supportive, though. Reality Steve made his thoughts known on Twitter on Thursday.
"You're being sold a load of crap with Arie," he wrote. "The biggest dog they've ever cast as lead in Bachelor history. Good luck. He's gonna need it."
Watch Arie talk about his new role as 'The Bachelor' in the clip below.