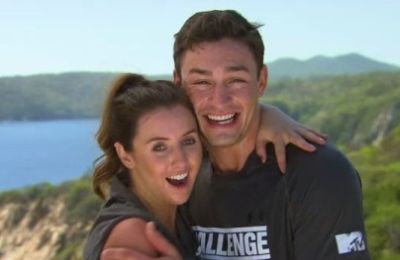 The Challenge XXX's Tony Raines and Camila Nakagawa have jumped off the makeout bus and onto the apology train following this week's episode of the MTV reality show, which ended with a boozy backseat kiss between the former rivals.
While hookups among cast members on any 'Challenge' season are pretty much expected, this one was particularly noteworthy as viewers have watched Tony talk this season about proposing to his then-girlfriend (and Baby Mama #2), Alyssa Giacone.
The Ashley previously told you how Alyssa reacted to seeing the first footage of the Camila/Tony tryst when the footage was revealed earlier this summer in a trailer.
After this week's episode aired on Tuesday, Tony and Camila spoke out about what happened.
Tony, who usually live tweets 'The Challenge' episodes each week (when he's not making/taking care of babies), took to Twitter to tell his followers he wouldn't be doing so for this one, although he did want to comment on the infamous bus ride.
"I'm beyond upset at myself and regardless of how it comes across on air I blame no one but myself," he said. "Maybe I've apologized too many times or not enough about all the mistakes I've made but I am very aware of my issues and everyday I'm growing and maturing. My focus now is working to keep my family together. Thank you and drama aside I hope everyone enjoys the rest of the season."
Tony added, "Anything else about this will be addressed at the reunion."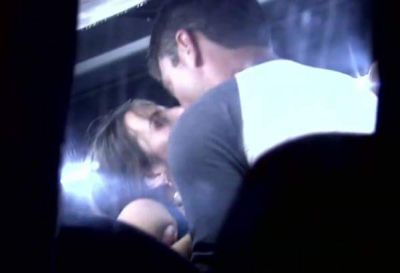 Camila commented on the controversy on Instagram, writing, "The best apology is changed behavior."
"I could sit here and apologize for all of my countless mistakes I've made in my personal life, MTV career, tonight's episode, next week's episode, mistakes I've made a year ago, mistakes I'll make tomorrow, the day after… this could go on and on and on and on," she wrote. "However, even though I am truly sorry for all of those mistakes I have made in my life, and nothing justifies them, I am the only one to blame for my own actions – I believe it is my responsibility to not just apologize but to actually make a change. It is my responsibility as a human being to put forward the effort, improve and become the best version of myself I can possibly be."
Camila said she agreed with those saying she needed to own up to her mistakes, but she also believes she has to do more than that.
"Failure is inevitable, but instead of allowing my failures to own me, completely bring me down and break me I want to learn how to actually make affective changes in my behavior, patterns, life," she wrote. "I fully understand my actions don't only impact me but those around me as well, & I refuse to let my weak moments own me and take away from all of the good I hope to bring to the world any longer."
Camila ended her post saying she doesn't claim to be perfect, but believes with courage, strength, determination, love and support from those around her, she can and will become a better person for herself and for the world around her.
Or something….
Tony and Camila's hookup was particularly shocking for 'Challenge' fans, given that they were partners during last year's "Rivals III" and were ultimately sent home early after getting into a semi-physical fight with each other. Leading up to Monday's kiss and make up sesh, viewers saw both competitors come out on top during their respective trivia challenges, proving that the real challenge for these two is staying out of trouble.
As for Alyssa, her Instagram remains private but her bio seems to confirm she hasn't reunited with Tony following his automobile antics.
"There is something incredibly hopeful about a fresh start," her bio states, along with the woman and child emoji.
In addition to Isla, the 10-month-old daughter Tony shares with Alyssa, Tony also is the father of 17-month-old Harper, whom he shares with Madison Walls.
(Photos: MTV)