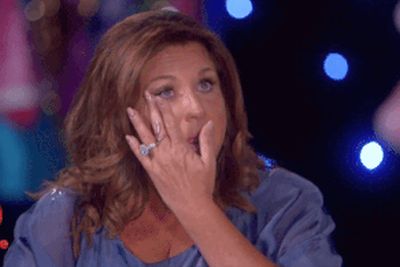 It's the end of an era: Dance Moms will end its run next month.
Lifetime confirmed the long-running reality show's cancellation to International Business Times.
Over the past few weeks, cast members had been hinting that the show would end after its current season finishes airing, but this is the first time the network has confirmed the cancellation.
The site reports that the series final episode of 'Dance Moms' will air on Tuesday, October 31, but two specials will air in addition to the regular episodes.
Season 7B is currently airing on Lifetime. As 'Dance Moms' fans know, the show's original star, Abby Lee Miller, is serving time in a California prison. Dancing with the Stars pro Cheryl Burke has replaced her as the show's teacher and choreographer.
Cheryl recently told Us Weekly that it was tough taking over for the famously brash Abby.
 "There were a lot of tears, anger and insecurity," Cheryl told the magazine. "It was shocking to me. I couldn't believe these beautiful girls that have zero confidence. That's not the way to live life. [The girls] said they'd been traumatized by Abby and her teaching methods. That's a shame because with teenagers it's so important to mentor them."
Earlier this week, original cast member Nia Sioux told Teen Vogue that she is leaving the show.
"It's crazy to see how far it's come and how much I've been through. I was just like, 'I'm 16 now, I'm growing up, the show has been a great platform, but it's time to move on,'" she told the magazine. "During the show, I couldn't take all the opportunities that I wanted to, and now since I'm off the show I'm getting to do what I want to do," she told the site.
'Dance Mom's premiered on Lifetime in July 2011 and has run for seven seasons. New episodes are currently airing on Lifetime.
(Photo: Lifetime)