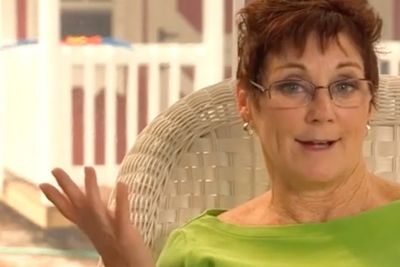 Teen Mom 2 star Jenelle Evans married David Eason on Saturday, in a backyard ceremony on "The Land" that the couple lives on. While all of Jenelle's three children– Jace, Kaiser and Ensley– attended the festivities, they appear to be the only relatives of Jenelle's who were present.
One person who did not attend the nuptials and hootenanny-style reception was Jenelle's mother, Barbara Evans. Jenelle and Barb have been estranged for months, due to their battle for custody of Jenelle's son Jace.
(As The Ashley told you previously, Jenelle did not win her battle for custody of Jace back in May.)
"She's very upset [that she's not invited]," Jenelle said of Barb last month. "I know she is and she … makes side comments here and there…"
While that is true (and Barbara has confirmed that to the press in the months leading up to the wedding), Babs still had a great day on Saturday. Although she wasn't getting down on the dance floor in a robe during the reception (a la Jenelle), Barbara spent the day at the beach with her friend!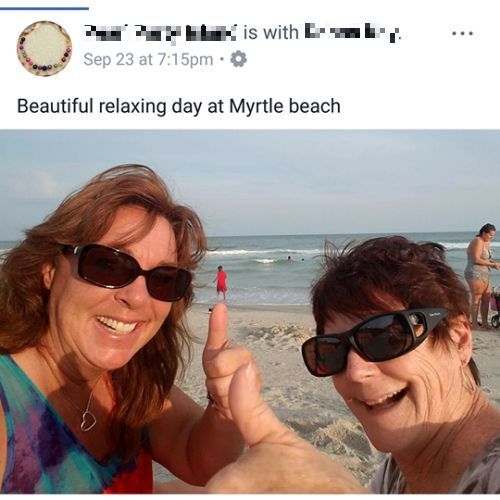 "Beautiful relaxing day at Myrtle Beach!" Babs' friend captioned a photo of her and Barb sitting on the sand in South Carolina. Babs even gave the camera the thumbs up to show she was clearly enjoying the day.
Jenelle had stated before the wedding that she was not inviting her mother, in part because of the custody battle outcome.
"I can't forgive someone that's just not going to give me back my son, so, and it's still going on," Jenelle told Us Weekly last month. "It hasn't been resolved. And if I had custody of him now maybe I would have invited her, but I'm not at the moment."
Barbara has had a lot of time to adjust to the idea of not being invited, though. Back in July, she was still upset about not getting to watch her daughter get married.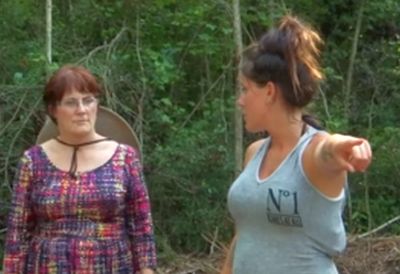 "She's been saying she's having her wedding, running around with her family of friends, but you know what she says? 'My mother Barbara is not invited,'" Barb told People in July. "She's not inviting me to her own wedding. It's very painful."
Barbara was not the only Evans family member excluded from the backyard romp. Jenelle's brother Colin, as well as her estranged sister Ashleigh, did not attend.
Jenelle's family was not present at her first wedding, either. Back in 2012, when Jenelle married Courtland Rogers in a rushed courthouse ceremony, none of Jenelle's family members were there to witness the union.
On Sunday, Jenelle posted a photo of her with her son Jace at the wedding. In the photo caption, she confirmed that her family was not present for her nuptials.
"None of my family attended my wedding and I do not care, this boy is who mattered in the end," she wrote.
As The Ashley previously reported, Jace walked Jenelle down the aisle during her wedding ceremony. (Jenelle's father has not been in her life for many years.)
To see tons of photos from the wedding of Jenelle and David, click here!
(Photos: Facebook, MTV)